Rod Fujita, Ph.D., is a scientist in the Oceans program at Environmental Defense Fund.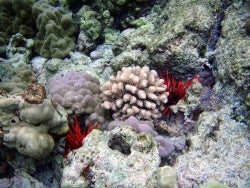 Coral reefs aren't just pretty places for scuba divers (although they do bring in billions of tourist dollars). These rich ecosystems supply the inhabitants of coral reef countries with the fish that they depend on as their main source of protein. Coral reefs, like rainforests, are also treasure troves of biodiversity that may hold the keys to fighting diseases like cancer and arthritis. Human wellbeing is tightly bound to the health of coral reefs.
Unfortunately, coral reefs are in trouble, and climate change plays a major role.
This week, marine biologists, reef managers, fishermen and divers are gathered in Fort Lauderdale to share the latest information on coral reef biology and conservation. On the opening day of the symposium, NOAA scientists released a report on the state of coral reef ecosystems in the U.S. The dense 569-page document is sobering. Some key findings:
Branching corals that once formed "vast stands" across the Atlantic and Caribbean have declined as much as 90 percent at some sites.
Populations of reef fish are "largely depleted" in the Atlantic and in "poor condition" in the Pacific.
The overall condition of reefs has declined over the past 25 years, and threats are increasing.
What's behind these problems? The scientists and managers surveyed identified various local threats to individual reefs, but climate change emerged as a widespread concern. More than two-thirds of U.S. reef jurisdictions reported that threats from climate change had increased over the past 10-25 years. The report's authors highlighted growing worry about ocean acidification (caused by increased CO2 in the atmosphere), which could "prevent future reef growth altogether."
To minimize the effects of warming and acidification on coral reefs, we must decrease our emissions of CO2 and other greenhouse gases. But coral reefs face other threats, as well, such as disease, coastal development, tourism and recreation, fishing, and invasive species. Protecting the world's remaining coral reefs will require action on many fronts.
The situation is grim, but all is not lost. We can help coral reefs withstand the stresses of climate change by reducing other direct threats. Corals are sensitive but also can be very resilient – if we can reduce the stresses that they face.