This post is by Lisa Moore, Ph.D., a scientist in the Climate and Air program at Environmental Defense Fund.
According to NOAA's National Climatic Data Center, this past winter was the coolest since 2001. A single season can't determine a long-term trend any more than a single month can (see my previous post, "Did Global Warming Stop in January?"). But the recent cooler temperatures do offer an opportunity to talk about La Niña – a climate pattern that causes short-term cooling.
This winter's La Niña is the strongest (coldest) since 1989, so we'd expect the weather to be cooler than usual. But even so, the cooling didn't come close to offsetting the warming of the past 50-100 years. As you can see in the graph below, the cooling barely takes us back to 2001.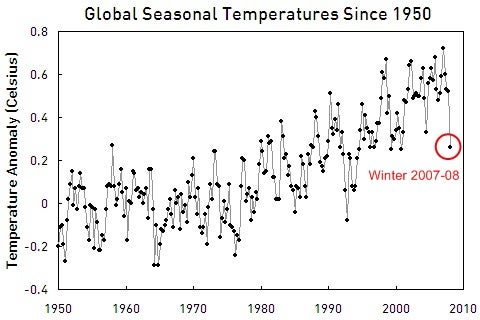 Data source: NASA. Each dot is a three-month period (season).
La Niña and El Niño: What Are They?
La Niña is essentially the opposite of the warming pattern known as El Niño. Both are year-to-year phenomena related to ocean circulation in the tropical Pacific, and both affect weather patterns worldwide.
Winds over the tropical Pacific generally blow from east to west, causing warm surface water to pool in the western tropical Pacific. But every few years, an opposing westerly wind pushes the warm pool of water eastward, making surface waters in the eastern tropical Pacific unusually warm. During this shift, called El Niño, heat from the water is transferred to the atmosphere, so air temperatures tend to be warmer.
La Niña affects the eastern tropical Pacific in the opposite way. Winds and ocean currents bring cold, deep water to the surface. The cool water acts as a heat sink, so air temperatures tend to be cooler.
La Niña conditions began developing last year, and yet 2007 was still one of the warmest years on record!
La Niña conditions typically last only a year or two. In contrast, greenhouse gases can warm the atmosphere for centuries. So unless we start making big cuts in emissions, the long-term trend will be warming.