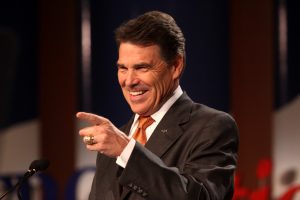 By now you may have heard that Rick Perry, former Governor of Texas, is President-elect Trump's pick for Energy secretary. If appointed, he will be succeeding Samuel Bodman, Doctor of Science in chemical engineering from MIT; Steven Chu, PhD in physics from the University of California, Berkeley; and Ernest Moniz, PhD in theoretical physics from Stanford University.
Since the majority of the budget of the Department of Energy (DOE) is spent on nuclear waste clean-up and very technical research projects, the fact that Gov. Perry doesn't measure up to his predecessors in his scientific credentials is disappointing. All the more so that his track record is one of unquestioning support of highly polluting interests in his state.
I have written about Perry plenty of times, so it should come as no surprise that I am less than thrilled with the idea of him heading the same department he famously declared he would eliminate.
Put simply: The appointment of Rick Perry is "open season" on the environment, and all who care about the health of their families should be concerned. Time and again, he has put polluters over people for political gain, and leveraged backroom deals with special interests — the rest of the economy and the air be damned. My only hope is that he takes to heart the jobs and economic growth resulting from Texas wind power, and uses it to steer the DOE toward fostering a thriving clean energy economy. Read More »