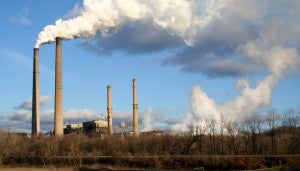 Critics of American Electric Power's (AEP) bailout have been quick to call out the utility for forcing Ohioans to prop up its uneconomic coal fleet. They note how the deal will cost customers $2 billion to keep open AEP power plants that would otherwise close.
One complaint we haven't heard yet comes from Senator Bill Seitz, chairman of the Ohio Senate Public Utilities Committee. Sen. Seitz recently joined in on criticizing AEP's bailout proposal – but for the wrong reasons. Rather than attack the multibillion dollar subsidies going to outdated power plants, the senator critiques a small carve-out for a new solar energy project in Appalachia that will employ veterans.
He believes the Public Utilities Commission of Ohio (PUCO) should not favor one technology over another, a reasonable point considering the PUCO is supposed to foster a fair, competitive electricity market. But that's precisely why he should blast subsidies for coal plants that can't compete in the marketplace. Unfortunately, AEP's bailout request – and Sen. Seitz's criticism – reflects a long U.S. legacy of protecting fossil fuels through subsidies.
Fossil fuels have long held the advantage
The argument that renewables should not receive preference over other energy sources is a familiar and tired one, and it completely ignores the broader history of our electricity system. When coal first arrived on the scene many years ago, it was not an affordable or competitive fuel source. Government support propelled it to become the traditional electricity source we know today.
And those subsidies have continued long after fossil fuels have became the dominant form of energy. A recent report showed federal taxpayer incentives for non-renewable electricity sources were more than five times greater than those for renewables – and that's just in the U.S. A recent Huffington Post piece illuminated the reality of the situation worldwide:
Last year, the Overseas Development Institute and Oil Change International concluded that a conservative estimate of global fossil fuel subsidies totals $775 billion, with an additional $88 billion per year spent on exploring further fossil fuel deposits (the U.S. alone spent $5.1 billion in fossil fuel exploration in 2013). Global renewable subsidies, by comparison, amounted to $101 billion in 2013.
Although Sen. Seitz and other conservatives rightfully argue for a level playing field, clearly all energy sources have never been treated equally. The government has been picking winners – in the form of fossil fuels – by subsidizing them with tens of billions of dollars, while externalizing the costs of pollution to the American people.
More importantly, the level playing field argument is exactly why conservatives should oppose AEP's plea for subsidies. If its coal plants can't stay afloat in a competitive marketplace, why should AEP customers pay to keep them open? (This same question holds true for FirstEnergy, another Ohio utility trying to force Ohioans to cover the costs of its bad business decisions.)
AEP's bailout is the latest in a long line of efforts to protect long-standing fossil fuel interests. If Sen. Seitz doesn't want to play favorites, he should oppose a deal that guarantees profits for a politically powerful utility. And, the PUCO should uphold its commitment to foster a fair, competitive electricity market by rejecting AEP's deal.