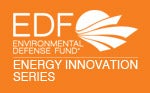 EDF's Energy Innovation Series highlights innovations across a broad range of energy categories, including smart grid and renewable energy technologies, energy efficiency financing and progressive utilities, to name a few. This Series helps illustrate that cost-effective, clean energy solutions are available now and imperative to lowering our dependence on fossil fuels.
Find more information on this featured innovation here.
Mosaic's "crowd-investing" concept gives people the opportunity to invest in a clean, low-carbon energy economy
Over the last decade, web-based crowd funding has grown from a clever way for fans to fund their favorite artist to a multimillion dollar funding option for just about anyone with a new widget.  For as little as a few bucks, anyone can help a friend or stranger get a good idea to market, and you might even get one of the first CDs or gadgets that come off the line.
But crowdfunding isn't really an investment.
Oakland-based Mosaic wants to do for renewable energy investing what crowdfunding sites have done for entrepreneurs. But rather than just offering a chance to help, Mosaic offers a piece of the profit.  Think of it as a renewable energy Kickstarter with a kickback.
"We connect individuals and institutions with high quality solar project investments," said Billy Parish, president and founder of Mosaic. "The fastest way to grow the clean energy economy is to allow more people to benefit from it."
Launched in 2011, Mosaic began as a zero-interest way for people to help launch large solar installation projects. For instance, say a non-profit in California needs $100,000 to build a large solar array: You and other investors kick in funding, the project gets built and Mosaic pays you back later.  Mosaic raised $350,000 in 18 months with that zero-interest model.
Last year it added interest-bearing returns to the mix and raised $300,000 in one day.
"We know there are lots of people who want to be part of the clean energy revolution," Billy Parish said.  "But we also recognize the power of enlightened self-interest.  If people can participate in something meaningful and have the potential for profit, they are even more motivated."
Mosaic finds projects that need funding and offers them to investors on their website.  The invested dollars help build the systems, and – as the systems generate energy and revenue – investors are repaid over the term of their investment with annual returns and monthly payments.
Profits aren't guaranteed, but Mosaic expects returns far higher than small investors can get elsewhere because power from large solar installations is generally sold up front in purchase power agreements and locked in over a certain period of time.  Mosaic's current projects offer returns ranging between 4.5% and 6.38% per year, and Mosaic's profit comes from a 1% annual fee on each dollar invested.
Compared to the volatility of the stock market or the anemic CD rates offered at banks, a 4.5% return on investment is pretty attractive.
It's not charity.  It's a real investment.  Every big energy project needs capital, and one of the fastest ways to spark investment in renewable energy is to make it easier for regular people to participate financially.  Renewable energy provides not only a chance for people to participate in the solution with their purchasing dollars, but also the ability to profit from it with their investment dollars.
To date, Mosaic has fully funded 12 solar arrays, totaling 1.4 megawatts of solar energy to the tune of $2 million.  Some of the projects are very small, like a 9kw system at People's Grocery in Oakland, CA.  Some are large, like the 550kw system at the Wildwoods Convention Center in Wildwood, NJ.  Individual investments have ranged from $25 to $50,000, but the average investment to date is $1,000.
(As is the case with all investments, investors are urged to read the company's full prospectus for each project.)
"Our biggest project so far has raised more than $1 million from more than 900 investors," Billy Parish said.  "And with each new project, we're growing the number of people who are tangibly invested in the clean energy economy."