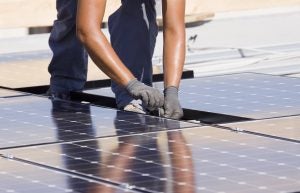 By Tyler Fitch, 2017 EDF Climate Corps Fellow
EDF Climate Corps fellows are designing clean energy solutions that reduce pollution and save money across the country. And at my summer fellowship with Environmental Defense Fund's (EDF) Midwest clean energy team as a part of the Illinois Clean Jobs Coalition, I pursued ways to make clean energy benefit more than just one bottom line.
My work resulted from the Future Energy Jobs Act, a monumental piece of bipartisan legislation that aims to transform Illinois' clean energy economy and "benefit all citizens of the State, including low-income [communities]." Those lofty goals were enshrined in law in December 2016, the result of hard work and negotiation from the Clean Jobs Coalition, a group of more than 200 environmental, business, and faith organizations dedicated to promoting clean energy in the state.
The energy landscape is changing in Illinois, and – if the Future Energy Jobs Act achieves what it set out to do – the future will be brighter for everyone. Here's how. Read More »