New York City, along with the rest of the mid-Atlantic, is seeing more extreme rainfall events that overwhelm local infrastructure and lead to localized, but often severe, flooding. These flash floods can impose myriad costs on residents from lost income when businesses are interrupted to higher commuting costs when transit is flooded to the need to muck out homes and repair flood damage.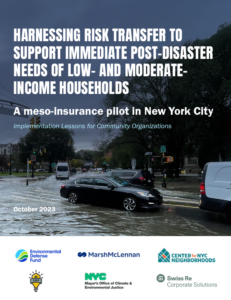 When disasters like this strike, access to funds is crucial for covering immediate expenses. Unfortunately, low- and moderate-income (LMI) households often lack the resources to meet these urgent needs, leading to financial distress that can persist long after the disaster has passed. To help address this, a group of partners crossing sectors designed a learning-pilot that consists of an emergency assistance program, financed by a novel parametric insurance product. The project team has recently published a new report summarizing lessons from this effort. Read the report here.
The pilot was focused on getting fast and flexible dollars to low- and moderate income (LMI) households after a severe rainfall-related flood event. Federal assistance may not be available for these more geographically limited floods and even if activated, can be very limited, challenging for households to navigate, and slow to disburse.  While those in the high flood-risk areas mapped by the Federal Emergency Management Agency are required to have flood insurance if they have a federally-backed loan or a loan from a federally regulated lender, rainfall-related flooding is occurring outside these areas where flood insurance take-up is incredibly low. And, many households cannot afford a separate flood insurance policy, even if they were informed of this risk. 
The learning pilot discussed in this report was developed with the support of a Civic Innovations Challenge award from the National Science Foundation and Department of Homeland Security and brought together EDF, the Center for NYC Neighborhoods, the NYC Mayor's Office of Climate and Environmental Justice (MOCEJ), SBP, Guy Carpenter / MMC Securities, Swiss Re, and ICEYE.  
The new report from the pilot partners shares valuable insights from the design and launch phases of this initiative, providing key lessons for other community organizations, non-profits, or local governments that may wish to explore such a solution in their communities.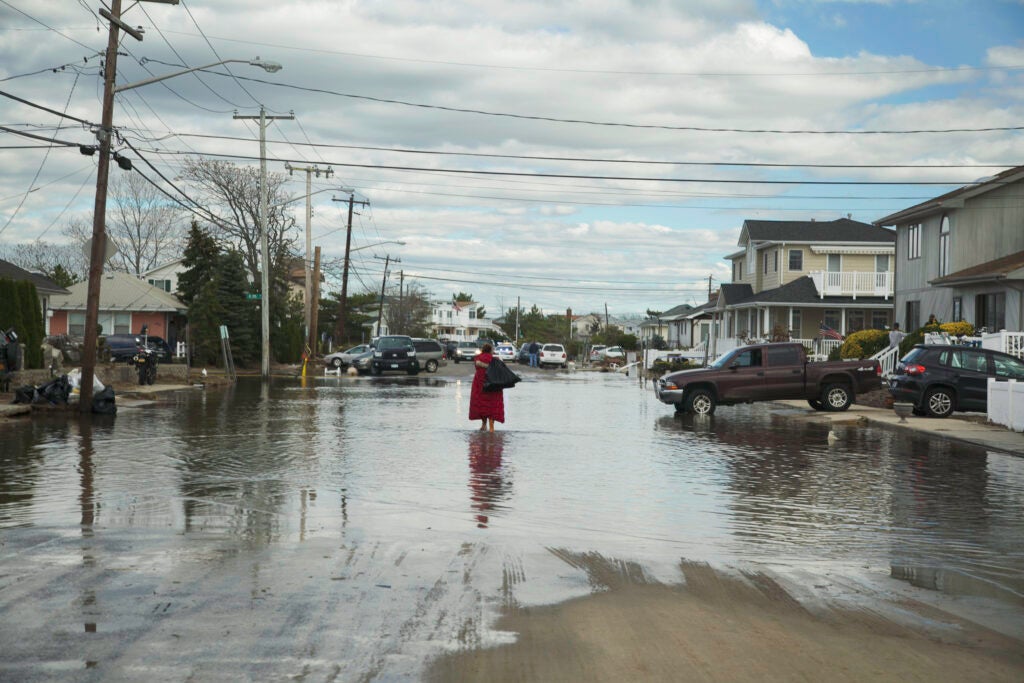 The Design of the Learning Pilot
Community insurance, sometimes called meso-insurance or group insurance, is a concept that revolves around an intermediary securing insurance coverage for a group of individuals or households. The goal is to offer quicker and more flexible funding than other available sources, preventing these households from falling further into financial distress. There are many ways that this general approach can be structured. The report details how the project team landed on this solution and the particular structure they chose. 
This pilot program utilizes parametric risk transfer, which activates payment based on a measure of the hazard. For this pilot, that hazard was rainfall-related flooding. This is one of the first parametric products focused on this peril and, as such, the team had to design their own "trigger" for the insurance product. The report explains how this was done and why the team chose the trigger they did. 
When triggered, the payout from this risk transfer product would be made to the Center for NYC Neighborhoods. Upon receipt, the Center would deploy these funds as emergency grants to assist LMI households facing a wide range of post-flood costs. These costs could include temporary shelter, replacing damaged appliances, or income loss due to business interruption, among others. 
Lessons for Replication and Scaling
Our report delves into the design decisions that moved the project team from concept to launch, and also provides a comprehensive overview of both the risk transfer product and the assistance program. Although the pilot program has not yet been triggered by a flood at the time of this report, and so the report cannot provide any lessons on activation or post-flood impact, the report does synthesize lessons from the early phases of the project. These lessons can benefit community organizations, non-profits, and local governments interested in utilizing risk transfer tools or establishing post-disaster assistance programs for vulnerable residents. The lessons are grouped into four categories: 
Getting Started:

Learning about risk transfer markets and assistance programs and creating your team.

 

Understanding the Broader Context:

Positioning your program within the larger disaster response framework at both a federal and local level.

 

Purchasing Risk Transfer:

Negotiating, designing, securing board approval, and easing contracting. 

 

Launching an Assistance Program:

learning from others, designing the program, developing the needed technology, reducing fraud, and considering long-term budgets.

 
As climate-related disasters become more frequent and severe, it is imperative to explore and expand innovative solutions to ensure that no one falls through the cracks in times of crisis. By combining parametric risk transfer with a responsive assistance program, this initiative offers a potential solution that could be replicated elsewhere. However, sustaining such programs will require addressing ongoing challenges, such as securing stable funding for insurance premiums and determining the most effective institutions and programs to meeting the various recovery gaps of LMI households and communities across perils and locations. 
For more information, we encourage you to read the full report. Together, we can build a more resilient future for all.