Tom Neltner, J.D. is the Chemicals Policy Director.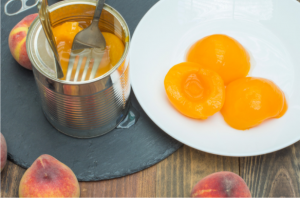 In October 2019, we reported finding canned foods had a surprising number of samples with lead based on the Food and Drug Administration's testing results. Almost half of the 242 samples had detectable lead, including a staggering 98% of 70 canned fruit samples.
We suspect that the high lead detection rates are a result of lead in the tin – either added to make an alloy or as a contaminant – used to coat the steel or join steel pieces together in the cans. This lead can then leach from the coating or solder into the food. Light-colored fruits and fruit juices would be more likely to have lead contamination based on a report indicating they are commonly packaged in tin-coated steel cans without a synthetic coating on the inside isolating the food from the tin. The lead detections in the other canned products in FDA's study could have resulted from flawed synthetic coatings.
In December 2020, EDF and ten health, consumer, and environmental groups[1] petitioned FDA to ban the use of lead in food contact materials such as tin. We also included that FDA should presume that lead was intentionally used when levels in food contact materials are at or above 100 parts per million (ppm) and provided an option for the agency to specifically authorize the use only if:
The part of the food contact article that contains added lead does not contact food under intended conditions of use; or
No lead migrates into food from the food contact article under intended conditions of use.
Our petition demonstrates that, because lead is a carcinogen that is unsafe at any level in the blood, its use in tin coatings and solder for food cans should be expressly prohibited. The agency posted the petition for public comment and must make a decision how to proceed by June 2021. There is no deadline for comments, but it is best to submit them by April 1 so they can influence the agency's decision.