Tom Neltner, Senior Director, Safer Chemicals
For the eighth year in a row, consumers rated chemicals as their top food safety concern according to the annual industry survey of consumer perspectives on food issues. In the survey conducted in March 2022, 48% of consumers rated chemicals as their top category of food safety concern – about the same as 2021 – compared to 22% for foodborne illness from bacteria. The chemicals category includes: cancer-causing chemicals (15%); pesticides (13%); food additives and ingredients (11%); and heavy metals (9%).
Last year, we examined the International Food Information Council's (IFIC) 2021 Food and Health Survey in detail. Our takeaway was that consumers continue to be concerned about chemicals in food, partly because they lack confidence that the federal government is actually ensuring additives—like artificial sweeteners—are safe. (Nearly 70% didn't know that's the government's role).
As a result, consumers do their best to protect their health and safety by avoiding ingredients that sound like chemicals—the only way they see to control the perceived risk. In reaction to consumer concerns, some food companies have undertaken "clean label" programs, which, according to a 2017 analysis by Center for Science in the Public Interest, either remove these ingredients (which can be helpful if the removed ingredients are unsafe) or use names that do not sound like chemicals (which obscures the facts and can be misleading).
IFIC changes to survey response options make comparing 2022 results to previous surveys difficult
From 2016 to 2021, IFIC provided a relatively consistent set of options for consumers, who were asked "What in your opinion are the three most important food safety issues today?"
But in 2022, the organization made several changes to the options consumers could choose. Most significantly, they dropped the "chemicals in food" option and added "heavy metals in food (arsenic, mercury, lead, and cadmium)." This change left those concerned about chemicals in food associated with health issues other than cancer – such as endocrine disruption or reproductive harm – without an option if it didn't fit one of the other categories.
In 2021, 15% of respondents chose "chemicals in food" as their top food safety concern. In the 2022 survey, without having the option of that broader category, it appears that almost two-thirds of respondents chose the heavy metals option, with the balance distributed to allergens, food additives and ingredients, and bioengineered ingredients/GMOs. The figure below is from page 76 of the 2022 report.[1]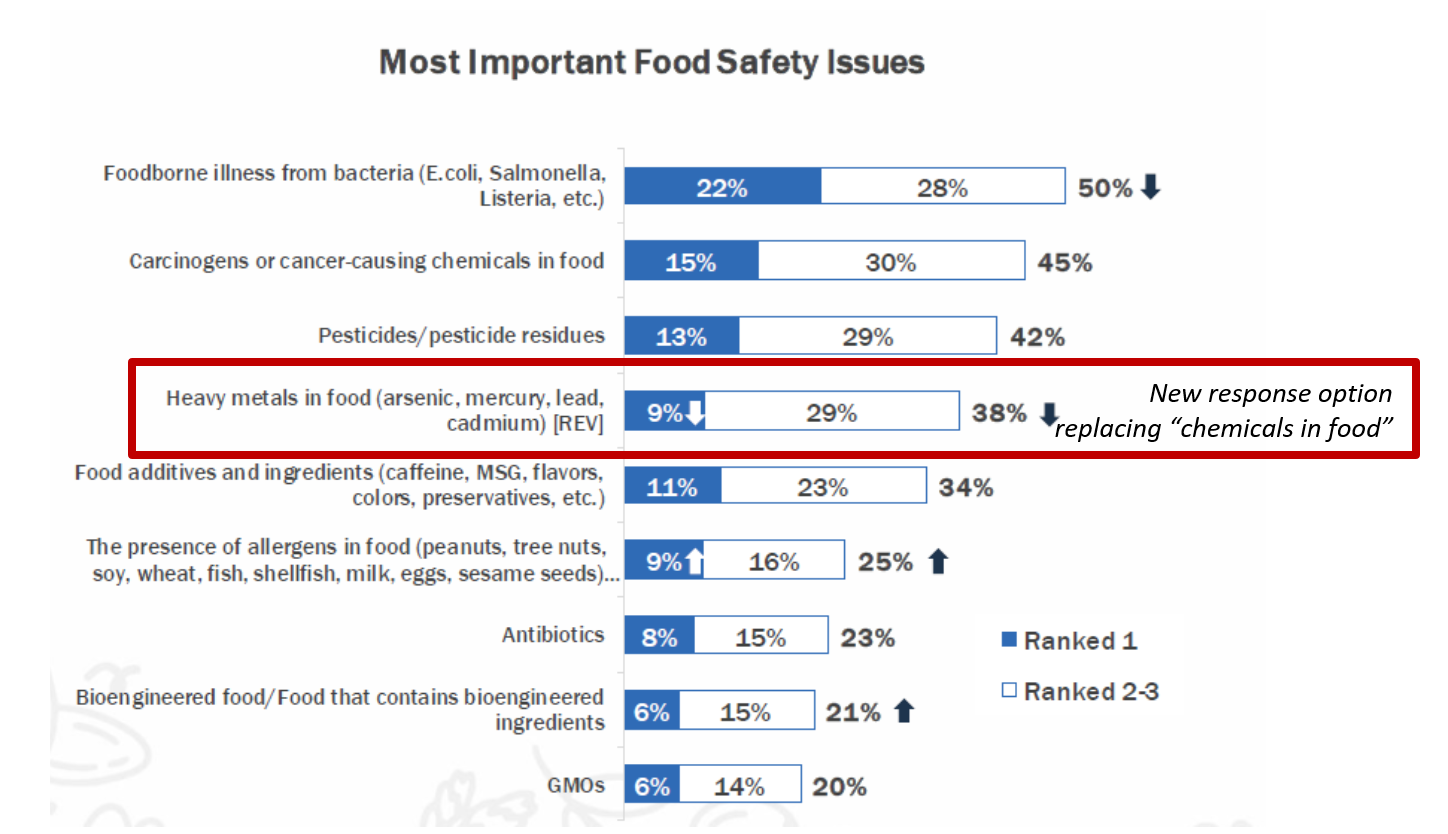 Consumer satisfaction on their top food safety issue is mixed.
In another new addition to the 2022 survey, IFIC asked a follow-up question about top food safety concerns: "How satisfied are you with what is currently being done to protect consumers on this issue?" While the industry described the results as indicating 55% of respondents were "satisfied," many consumers remain concerned—and nearly 70% of survey respondents didn't know that the federal government is charged with protecting them.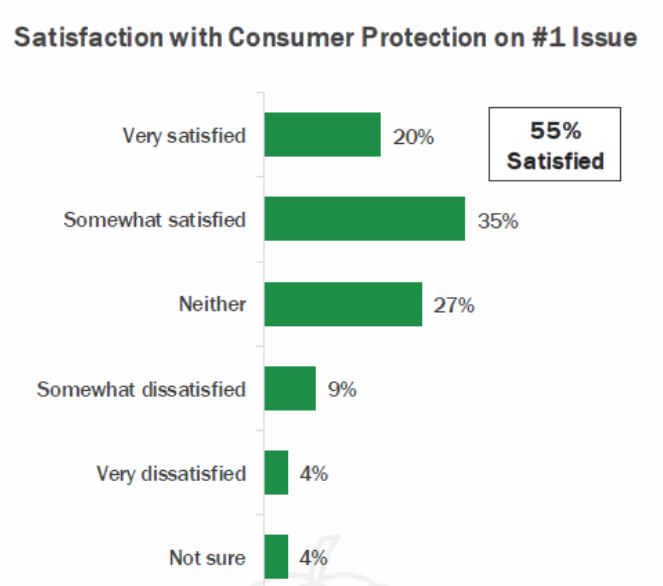 Conclusion
Ultimately, all the IFIC surveys reflect this fact: Consumers surveyed since 2016 have been clear that they see the presence of potentially harmful chemicals in their food as their most important food safety issue. The message to FDA should be loud and clear. The agency should be stepping up both to inform consumers about its role and to protect them from chemic
[1] Don't be misled by the "REV" description with the footnote saying it means "REV = Revised text vs. 2021" and the arrow pointing down, indicating fewer consumers are concerned about this category. IFIC inexplicably refers to "heavy metals" as a revision to "chemicals in food." These are not comparable items, since "heavy metals" is a much narrower category than "chemicals in food."