For the better part of the last decade, Eric Ini has worked with communities fighting for environmental justice. Human health is inextricably linked to the environment in which we live. And health disparities exacerbated by local pollutants are often tied to entrenched inequities and injustices. 
As a campaigner with Greenpeace in Africa's Congo Basin, Eric helped local communities preserve rainforest sought for palm oil plantations. Last year, he joined Michigan United, drawn to the group's work to protect the health of frontline communities after its members helped pressure Marathon Petroleum C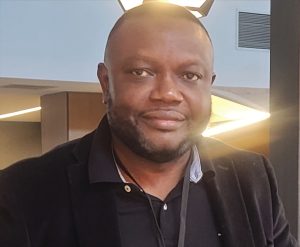 orporation into paying $5 million to buy out residents in the predominantly black neighborhood of Boynton affected by years of pollution from the company's refinery in southern Detroit. 
Now Michigan United's environmental justice director, he is part of a coalition opposed to the state's permitting of an Ajax Materials Corp. asphalt facility near Flint, Michigan and demanding action to protect public health. The state Department of Environment, Great Lakes and Energy (EGLE) granted the permit last year, despite overwhelming opposition and calls from the federal EPA to evaluate the cumulative impact on the surrounding community of emissions from the Ajax facility and the many industrial facilities already in the area. 
I sat down with Eric to hear more about his environmental justice efforts and the lessons he's learned in his work with communities, governments, and companies on multiple continents.   
The text has been edited for clarity and brevity.  
Terry Hyland: You joined Michigan United just over a year ago with a mission to expand the organization's environmental justice work. Tell us about Michigan United's environmental justice actions. 
Eric Ini. One is the Ajax campaign. Michigan United worked with partners to put together a very strong coalition that campaigned vigorously against Ajax.  
Though Ajax finally got the permit, the campaign brought not just local but national attention.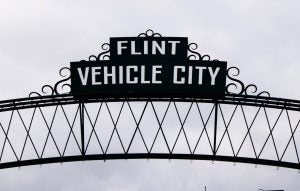 We saw the EPA get involved, and EPA recently decided to review the process for granting that permit. And now Michigan United and coalition members have sued EGLE as well. We're still campaigning, the coalition is still strong.
We have also applied to for an EPA grant to buy air quality monitors for Flint. Our aim is to collect data we can use for advocacy, community education, and organizing. 
Terry. Can you talk a little bit about your own path?  
Eric. I was born in Cameroon — in West Central Africa. And I've had the opportunity to work, live and study in four continents. I've also been an organizer on four continents: Asia, Europe, Africa, and the United States. 
Before coming to Michigan, I was working with Greenpeace as a senior campaigner, mostly focused on the Congo Basin (the second largest tropical rain forest after the Amazon).  
I joined Greenpeace after reading about an American company obtaining about 100,000 hectares in Cameroon – my home country – to open a palm plantation. Through organizing and outreach, we were able to get about 80% of the land back to the local communities. That's the spirit I have in organizing. I always like to give people hope that if we come together and we fight, we're going to win.
"So, we go with the story of hope, letting people know that tomorrow is going to be a better day." – Eric Ini
Later I learned about communities in Detroit affected by pollution from Marathon Petroleum's refinery. The company initially agreed to buy out White neighborhoods but not Black neighborhoods. It felt like what happened in my country – the more powerful suppressed the less powerful.  
I got interested in Michigan United after hearing the organization and its members helped pressure Marathon, which eventually agreed to pay $5 million to also buy out Black residents. 
Terry. What are some main lessons or takeaways you've learned in your community work?  
Eric. I think that in organizing you should always try to look around the room to see who is there, and then try to understand the person first, individually before collectively. Cultural difference is something that needs to really be taken into consideration in organizing — and really everything that you do. 
Also, we always need to listen to communities and see where their self-interest is. Because if we decide to just do what we want to do, then we might not be able to bring those communities along. We have to listen to them. 
Terry. What's next?  
Eric. Climate change is a big issue. In places like Michigan, we are seeing the impacts, like floods, power outages and increased winter storms.  
At Michigan United, we have brought together a coalition of organizations called the Statewide Decarbonization Campaign, which is trying to remove the roadblocks to decarbonization.
Many cities across America and in Michigan are passing resolutions for decarbonization action plans. Despite the plans, roadblocks to implementation often remain. For example, Michigan has a 1% cap on distributed energy generation — limiting the number of small-scale solar projects that can be installed. So, the coalition is supporting a bill in the Congress in Michigan, HB 4236, that bill would remove the 1% cap. 
In addition to climate change, our intent is to continue building power in Michigan through building strong coalitions, as well as organizing people. 
So, we go with the story of hope, letting people know that tomorrow is going to be a better day.