EPA today revealed its severely flawed approach to reviewing the risks to health and the environment posed by the first 10 chemicals being evaluated under the newly reformed chemical safety law, the Toxic Substances Control Act (TSCA).  These chemicals were selected in 2016 because of their potential dangers to the health of American families, but the Pruitt EPA has chosen to ignore many sources of exposure to the chemicals and, in doing so, will severely underestimate their actual risks.
"EPA is both ignoring the law and endangering public health.  The approach it is taking – designed by an appointee who came straight from the chemical industry's lobbying arm – ignores millions of pounds of toxic pollution," said Dr. Richard Denison, EDF lead senior scientist.  "Pruitt's EPA won't examine the real extent of exposures to these chemicals – and that will put at risk the lives and health of Americans."
An analysis by Environmental Defense Fund reveals that EPA will ignore more than 68 million pounds of seven of these 10 chemicals released to the nation's air, water, and land every year.  Among the chemicals are known killers such as asbestos and other toxic chemicals such as trichloroethylene (TCE) that cause cancer and are linked to developmental and neurological disorders.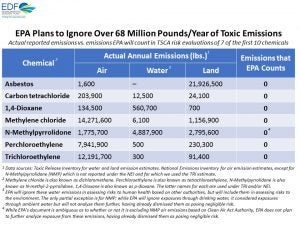 Download or view the above table at this link.  
This new assault on TSCA implementation is illegal and could make TSCA even weaker than it was before the 2016 reforms.  It also flies in the face of the science that informs what we know about how chemicals can affect our health and that of our environment – frustrating Congress' mandate that EPA conduct broad risk reviews of chemicals and use the "best available science" when assessing chemical risks under TSCA.  The move provides yet more evidence of this Administration's unrelenting war on science.
The documents released today demonstrate EPA's illegal approach to chemical reviews, going even beyond that set forth in its 2017 rule that laid out the details of how EPA will conduct chemical risk evaluations under TSCA.  The approach adopted in that rule, which closely mirrored the demands of the chemical industry, is currently being challenged in the courts.
EPA asserts that the potential exercise of authority under another law EPA administers – such as the Clean Air Act or the Clean Water Act – allows EPA to ignore known releases of and exposures to a toxic chemical when assessing its risks under TSCA.  In doing so, EPA will effectively assume that such exposures to known toxic chemicals pose no risk whatsoever to people or the environment.  EPA will also entirely exclude known exposures arising from "legacy" uses and associated disposals of asbestos and HBCD from their risk evaluations.
Yet the science tells us that the combined, long-term, and even low-level exposures resulting from multiple uses and sources of exposure to a chemical are what matter.  Assessing all of these exposures is essential to considering differential vulnerabilities of particular subpopulations such as infants, pregnant women, workers, the elderly and disproportionately exposed communities.
Pruitt's EPA now intends to weaken the implementation of a new law Congress made stronger by breaking it up into pieces and distributing those pieces to other parts of the agency – the authorities of which Pruitt is working relentlessly to dismantle – with no obligation for those other EPA offices to act.  Not only will EPA ignore known sources of exposure to toxic chemicals, it is also abdicating its obligation under TSCA to protect the public, including vulnerable subpopulations, from those chemicals where their combined exposures present unreasonable risk.
Click here for more background on the serious flaws in EPA's approach.
###
Environmental Defense Fund (www.edf.org), a leading international nonprofit organization, creates transformational solutions to the most serious environmental problems. EDF links science, economics, law and innovative private-sector partnerships. Connect with us on EDF Voices, Twitter and Facebook.