Richard Denison, Ph.D., is a Lead Senior Scientist.
[My colleague Ryan O'Connell assisted in the research described in this post.]
[Use this link to see all of our posts on Dourson.]
In a recent post I noted our initial findings from a review of published papers of Michael Dourson, the Trump Administration's nominee to head the office at the Environmental Protection Agency (EPA) charged with implementing the Toxic Substances Control Act (TSCA).  That review has shown that Dourson has been paid by dozens of companies and trade associations for work on dozens of their chemicals – including many of the same chemicals he will be charged with reviewing and regulating should he be confirmed.
Our review is uncovering additional curious features of Dourson's published papers. 
We have looked at all papers listed on PubMed on which he was an author published since 1995 – the year Dourson left EPA and started his consulting firm, Toxicology Excellence in Risk Assessment (TERA).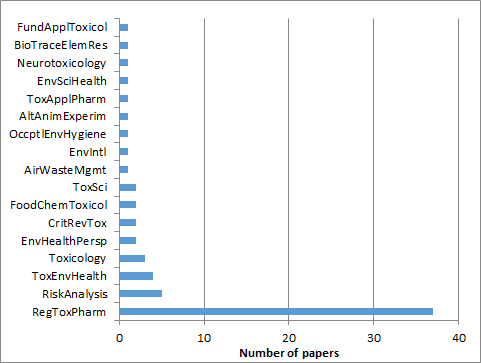 There are 66 such papers.  The chart here shows the number of papers he published in various journals.  What is remarkable is that well over half of them – 37 – were published in a single journal:  Regulatory Toxicology and Pharmacology.  The journal with the next largest number ran only five of his papers.
Regulatory Toxicology and Pharmacology, it turns out, has a longstanding reputation of being the go-to journal for both tobacco and chemical industry-friendly paper publishing.  The journal has been the subject of numerous exposés over the past 15 years regarding its close ties to the chemical and tobacco industries.  Here are some of them:
Regulatory Toxicology and Pharmacology is sponsored by The International Society of Regulatory Toxicology & Pharmacology (ISRTP), which sounds like a professional society.  It hands out annual achievement awards (Dourson got one in 2009).
My effort to see who funds ISRTP took some interesting twists.  On its website, ISRTP only has this to say about its sponsors:  "Sponsors to be announced soon."  This struck me as odd for a society that dates back to at least 2003.
Luckily, however, the Internet is archived, and this same page is available for earlier points in time using the glorious Internet Archive Wayback Machine.
Here's what that page looked like up until September 2006: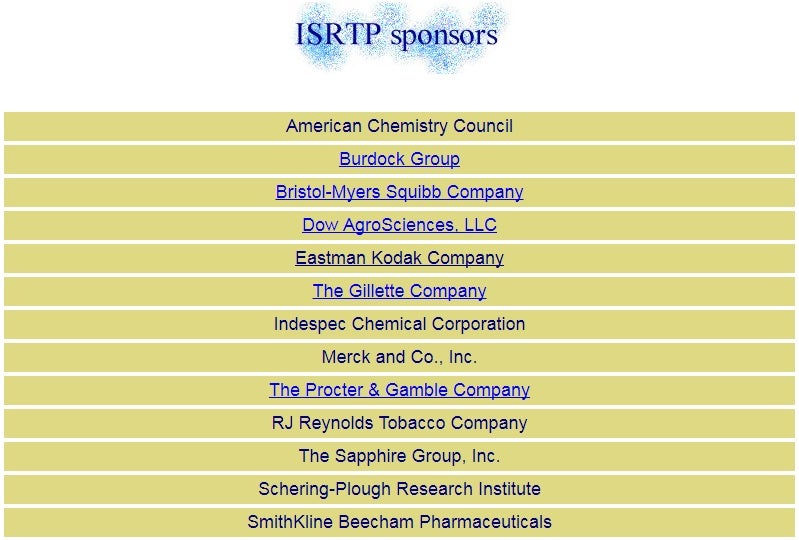 An impressive list, to say the least – so why is it now hidden from public view?
For more on ISRTP and its journal, including their role in a 2008 Congressional investigation involving bisphenol A, see this link.
To bring this back to Michael Dourson, I think my title says it all:  Dourson's go-to journal for publishing his industry-funded papers is, well, also industry-funded.
In my next post, I'll probe a little deeper into Dourson and Regulatory Toxicology and Pharmacology.