Lindsay McCormick is a Research Analyst.
Asthma presents a huge public health challenge.  Over the past few decades, asthma rates in the U.S. have nearly tripled – increasing from 3.1% in 1980 to 8.4% in 2010. Today, more than 25 million people suffer from this chronic respiratory illness.
While air pollution and allergens like pet dander are clearly big triggers for asthma, we know that certain chemical exposures play an important role as well.  A number of chemicals used in everyday consumer products – from household cleaners and building materials to shampoos and cosmetics – are known or suspected "asthmagens"– environmental agents that cause or exacerbate asthma.  Unfortunately, such chemicals are poorly regulated and we, as individuals, rarely have any way of knowing which ones are lurking in our environment.
EDF recently conducted a pilot project to explore which chemicals we are exposed to in our day-to-day lives.  The project employed simple chemical-detecting wristbands that absorb certain chemicals present in the environment.  We enlisted 28 volunteers to become "environmental sensors" for a week by wearing the wristbands.
Among the results:  Over the course of that week, the participants came into contact with a total of 57 potentially hazardous chemicals, 16 of which are linked to respiratory health effects such as asthma.  
What were some of the chemical asthmagens picked up by the wristbands?
Phthalates
Across all participants, a total of eight phthalate compounds were detected—with an average of three per participant.  Phthalates have a wide range of uses.  They can be found in building materials like PVC pipes, vinyl flooring, and adhesives as well as cosmetics, personal care products, and food.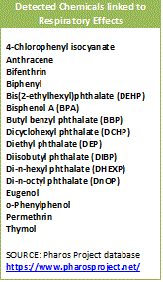 Five of the eight phthalates we detected are suspected asthmagens, according to the Healthy Building Network's 2013 report.  A growing body of research is finding that exposure to phthalates can interfere with normal development of children's lungs and immune systems, increasing their risk of developing asthma and allergies.  One study (about which we blogged previously) found that children born to women who were exposed to certain phthalates during pregnancy – including butyl benzyl phthalate, which was detected by nearly every wristband in our pilot project – were more likely to develop asthma.
Isocyanates
We detected one isocyanate (4-chlrophenyl isocyanate) in the pilot project. Isocyanates are highly reactive chemicals used to make polyurethane materials such as spray polyurethane foam insulation, automotive paints, and flexible foams used in upholstery, mattresses, automobile seats and dashboards.
The U.S. Environmental Protection Agency (EPA) recognizes isocyanates as the number one cause of workplace-related asthma.  An estimated 280,000 U.S. workers are exposed to isocyanates through their jobs, especially in the manufacturing and construction industries.  Isocyanate chemicals volatize into the air when they are still unreacted (or "uncured"), as when applying a wet paint.  Breathing in these volatilized chemicals can cause respiratory tract sensitization, and frequent workplace exposure can lead to the development of asthma.
As isocyanates are also added to consumer products like arts and crafts materials, there has been growing concern about exposure to the general population as well.
Fragrances
Every participant's wristband detected the common synthetic fragrance galaxolide.  Over 3 million pounds of this chemical is produced or imported in the U.S. annually.  Many wristbands also detected naturally occurring compounds with fragrant properties, like eugenol – an essential oil of clove that is associated with allergies, skin irritation, and respiratory effects.
Synthetic and natural fragrances are virtually ubiquitous in products like cosmetics, household cleaners, lotions, scented candles, air fresheners, dryer sheets – even cat litter!  While they can provide a pleasant scent, many fragrance chemicals can trigger asthma and other respiratory conditions.
The of tip of the iceberg
When it comes to chemical exposures, our understanding is woefully inadequate.  Of an estimated 100,000 chemicals having some data on toxicity, less than one-fifth have any exposure-related information, and even that information is extremely limited (e.g., production volume).
Imagine if people from all walks of life – such as school children, nail salon workers, gas attendants or the 15 million Americans living within a mile of an oil or gas production site – could monitor chemical exposures in their personal environments.  Then we could begin to draw a more accurate and complete picture of our daily chemical exposures, and use that information to identify effective interventions to prevent those exposures that are harmful.  EDF has and is working towards this vision – and we're asking interested individuals to join us.