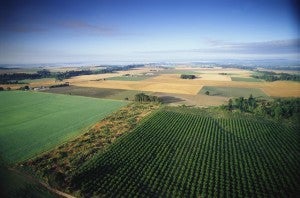 Forty percent of the U.S. is taken up by farmland. Yet only half of these acres are actually owned by active farmers. In the Corn Belt, 70 percent of growers rent some portion of their land from a non-farming landlord. And the biggest growth in non-farming landowners is coming from investors that see farmland ownership as a good business opportunity.
Here's the problem: non-farming landlords aren't always informed on the best ways to care for the farm, which can present environmental and economic challenges for tenants and the owners themselves.
As more non-farmers buy up cropland, government agencies, organizations, and even the private sector will need to ramp up efforts to educate landowners on the importance of soil health, fertilizer efficiency, and other conservation measures in protecting their farm's value and making the land more resilient to extreme weather events.
Non-farming landowners can be a powerful partner in reducing agriculture's environmental footprint at scale and ensuring food productivity in the future. Plus, when landowners invest in sustainability and collaborate with those farming their lands, everyone wins – growers, landowners, consumers, and the planet. Read More »