Authors: Dawn Shirreffs and Kelly Suttles
In 2022, the Florida legislature created the official designation of strawberry shortcake as the State Dessert. Key lime pie advocates may yet have a second chance to emerge victorious as important new research by Environmental Defense Fund and Two Degrees Adapt signals concern for growing strawberries in the Sunshine State due to climate change.
Climate change brings an uncertain future
Florida farmers play a critical role in food production for the U.S., generating over $7 billion in crops, especially during the winter months. While famous for its oranges, Florida's specialty crops, like strawberries, play a significant role in the state's economy: for example, strawberry production generates $400 million annually. In recent years, extreme weather has hit Florida agriculture hard, sustaining over $1 billion in losses from Hurricane Ian in 2022 alone – and climate change brings an uncertain future. Environmental Defense Fund recognized that sound science was essential to assess risks from climate change to growing the crop.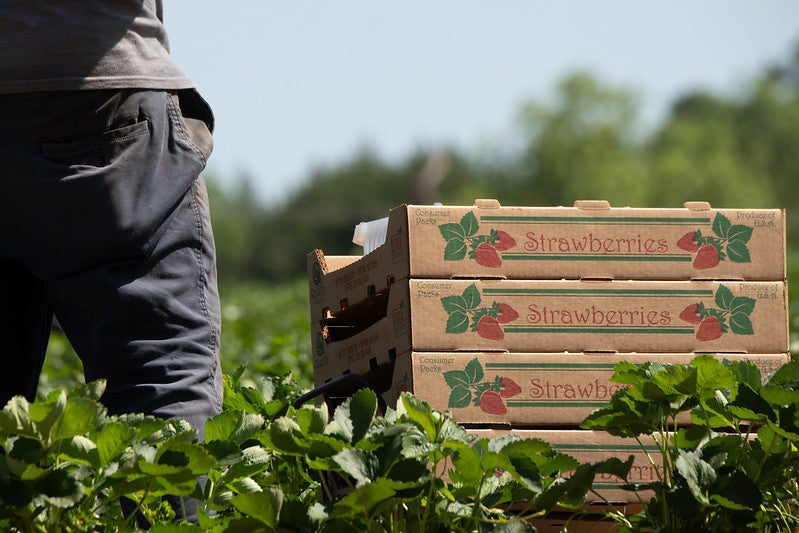 Building off a crop model developed by researchers at the University of Florida, our research looked at how a middle-of-the-road climate scenario of a temperature rise of 4.3oF by 2050 would increase "killing degree days" when temperatures are, at best, too hot for strawberries to grow and, at worst, damage or kill them. Our analyses also looked at anticipated changes to rainfall and humidity that will increase water needs for strawberry plants. The outlook was discouraging.
Extreme weather will significantly impact Florida farmers
In Hillsborough County, where most of the state's strawberries are grown, growers can anticipate a 17% decline in early yields by 2050. Early yields are critical to making Florida strawberries competitive with producers in California and Mexico. This yield declines drive projected income losses of 10% per acre within the next two and a half decades. Economic losses, development pressure on viable farmland, and extreme weather will significantly impact Florida farmers who are already struggling against narrow profit margins.
With this new study, we now have clear opportunities to mitigate the impact and adapt to changing conditions. The report identified several adaptation strategies to offset these impacts, including investment in new shading technology and examining hybrid varieties. Indeed, forward-thinking companies, like Wish Farms, have already begun to commercialize strawberry varieties such as Sweet Sensation with early yield in mind.
By working together, looking ahead and continuing to rely on data and science, we can work to protect Florida's unique strawberry growers – and that is pretty sweet.