Recharging groundwater with rain and snowmelt is one strategy water managers are embracing to help balance groundwater supply and demand and comply with the California Sustainable Groundwater Management Act.
Depending on the location, recharge can also deliver other valuable benefits, such as additional habitat for wildlife and a more resilient water supply for people.
With support from EDF, four UC Santa Barbara graduate students have developed a new mapping tool for California's Central Valley to identify the best locations for groundwater recharge to secure these bonus benefits. The tool, called Recharge for Resilience, is available online and also can be downloaded by users with more technical expertise.
A one-of-its-kind tool for water managers
While at least two other tools exist to help choose locations for groundwater recharge, the UCSB students' mapping platform is unique in that it allows users to consider more factors to identify locations and leverages open-source data, making it less expensive. Users can customize the weighting of those factors, which include groundwater-dependent ecosystems, permeability of soils, water quality considerations and proximity to water conveyance.
In addition to EDF experts, the students consulted recharge experts like Kamyar Guivetchi, a manager with the California Department of Water Resources, who praised their work.
"The Recharge for Resilience team has developed a flexible, publicly available and easy-to-use spatial analysis tool to assist water and resource managers design groundwater recharge projects that can provide an array of benefits — aquifer replenishment, local water resilience, flood risk reduction and ecosystem enhancement," Guivetchi said.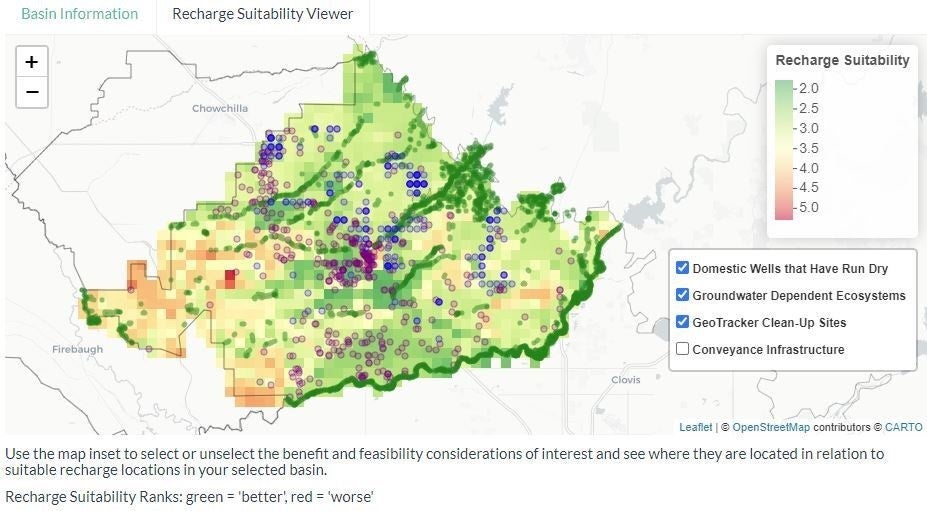 More data to deliver multiple benefits
The students compiled public data from a variety of sources to build the tool. The ArcMap based model is available for download here.
"We considered recharge suitability based on soil and subsurface conditions as well as historic agricultural inputs that could adversely affect groundwater quality," explained Jenny Balmagia, who worked on the project as a summer intern at EDF. "We also wanted to highlight areas that could provide multiple benefits with recharge — such as areas near existing wildlife habitat that depend on groundwater and nearby domestic wells that have run dry in past droughts."
While recent analysis has underscored that groundwater recharge is not a silver bullet to balance groundwater supply and demand, it is still an important strategy, especially because of the additional community and environmental co-benefits.
Learn more and explore the mapping tool.