Now that critically overdrafted groundwater basins in the Central Valley have submitted their sustainability plans, the hard work begins for them to balance groundwater supply and demand in ways that minimize economic disruption.
A state program called Regional Conservation Investment Strategies (RCIS) can help.
RCIS wasn't created to help groundwater basins comply with the Sustainable Groundwater Management Act (SGMA). Rather, it was established in 2016 as a framework for regions to prioritize and develop measurable habitat conservation outcomes including those needed to  adapt to climate change.
This week, however, the Kaweah Subbasin was awarded $515,000 from the state's Wildlife Conservation Board to develop an RCIS plan, becoming the first region in the Central Valley to leverage the process in response to SGMA. We at EDF think it could serve as a model for other communities for two reasons:
First, the RCIS process is collaborative, giving diverse stakeholders, including disadvantaged communities, a seat at the table to develop a shared vision for the future.
Second, the RCIS program provides farmers with shortcuts to receive payments for creating wildlife habitat on former agricultural lands and opens the door to identify ways to repurpose the land for other purposes, like low-impact solar.
How a state program is helping critically overdrafted groundwater basins in the Central Valley balance groundwater supply and demand in ways that minimize economic disruption.
Click To Tweet
Creating a shared vision of the future
The Kaweah Subbasin lies in the southern San Joaquin Valley and is home to 339,000 people. Of those, about 40% live within a disadvantaged community.
Almonds, citrus and olives are among the crops grown in the region. Annual groundwater demand has surpassed supply since the last drought, and that gap is projected to continue growing if action is not taken.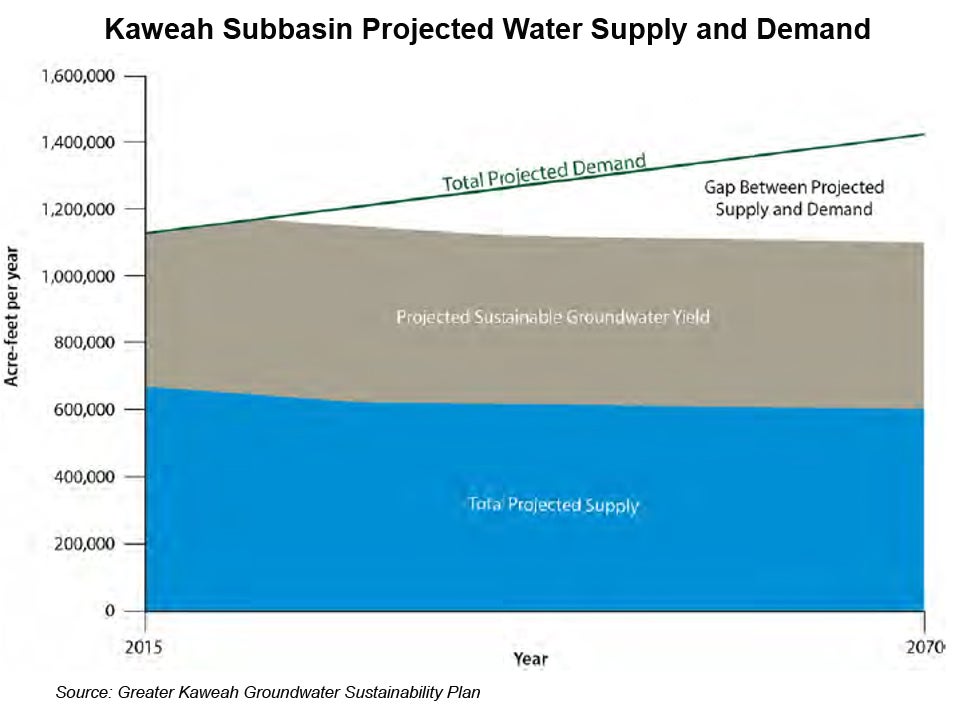 Some land is expected to go out of production to bring basins into balance and comply with SGMA, and developing an RCIS plan can help the Kaweah region proactively engage diverse members of the community to identify new uses for that land, including habitat, solar energy and groundwater recharge.  Giving everyone a voice will, in turn, help create a stronger, more durable plan.
Michael Hagman, executive director of the East Kaweah Groundwater Sustainability Agency, will play a key role in managing the RCIS process. He explained why he is convinced the RCIS is an important project to shape the region's future:
"To balance groundwater supply and demand, it's an unfortunate reality that we will have less water to irrigate the current acreage of farmland. This RCIS process will help us bring together stakeholders to create a holistic vision of what our region can become as we repurpose some agricultural land to create benefits for farmers, farm workers and the community as a whole."
Putting dollars in farmers' pockets
As SGMA takes effect, many farmers are understandably worried about how it will shape their future. The RCIS opens the door to another source of funding for farmers. With an RCIS plan in place, farmers could receive payments through what's called a mitigation credit agreement for repurposing their fallowed land to valuable habitat for species such as the Swainson's hawk and San Joaquin kit fox.
For example, one conservation strategy could be creating habitat corridors for wildlife, while simultaneously improving water quality and providing recreational opportunities for the community.
Mike Chrisman, a landowner in the Kaweah Subbasin and former secretary of the California Natural Resources Agency, sees this new funding as a strong selling point for the RCIS.
"Farmers are a strong, creative group who understand the importance of being stewards of our natural resources. This RCIS process will provide us with new tools – and dollars – to create a more resilient water supply and vibrant community. It might mean farmers do things a little differently than past generations in order to create new opportunities for future generations."
Creating new benefits on the land
Sequoia Riverlands Trust (SRT) has been implementing conservation projects alongside farmers and ranchers in the region for decades.  Executive Director Cam Tredennick sees the Kaweah RCIS project as a valuable prioritization tool to draw resources into a region where conservation funding can have tremendous leveraging power. He explained:
"SRT knows from experience that working lands can provide multiple benefits to wildlife and natural resources. We see the RCIS as a valuable stakeholder-driven process that, if we also establish the means to implement its recommendations, can help ensure we improve and protect the productivity and health of the region's land, and the purity of its water and air, for the benefit of our children, our children's children, and beyond."
These leaders in the Kaweah Subbasin recognize the transition to sustainable groundwater management will not be easy, so regional collaboration and incentives will be crucial. We look forward to supporting their RCIS process and demonstrating its value to other parts of the Central Valley, too.