As my fellow North Carolinians prepared for the arrival of Hurricane Dorian last week, many were still reeling from the devastation that Hurricane Florence inflicted upon communities and businesses last year. And that's to say nothing of the misery that Hurricane Matthew wrought upon residents two years before that – or the smaller flooding events that are now challenging folks with more regularity.
As we work toward recovery, we need to think about how we adjust to this new normal and build resilience in the face of increasingly intense storms and sea level rise.
As Gov. Roy Cooper said when testifying before the U.S. House Natural Resources Committee in February, "When storms are becoming more destructive, it's not enough to pick up the pieces. We must take action to prevent this kind of devastation in the future."
Moving forward toward resilience
Because the future will look a lot different, we can no longer look to the past for solutions. But we can build a future in which people and nature thrive, even as the planet changes. Here are four approaches to secure a resilient future for North Carolina's communities, farms and ecosystems:
1. Let science and modeling lead:
Substantial federal funding is flowing to North Carolina from Hurricanes Matthew and Florence disaster appropriations. To move the region toward resilience, some of these funds should be dedicated to expanding hydrologic models and data collection to implement flood reduction projects and to coordinate local stakeholders in developing locally driven solutions.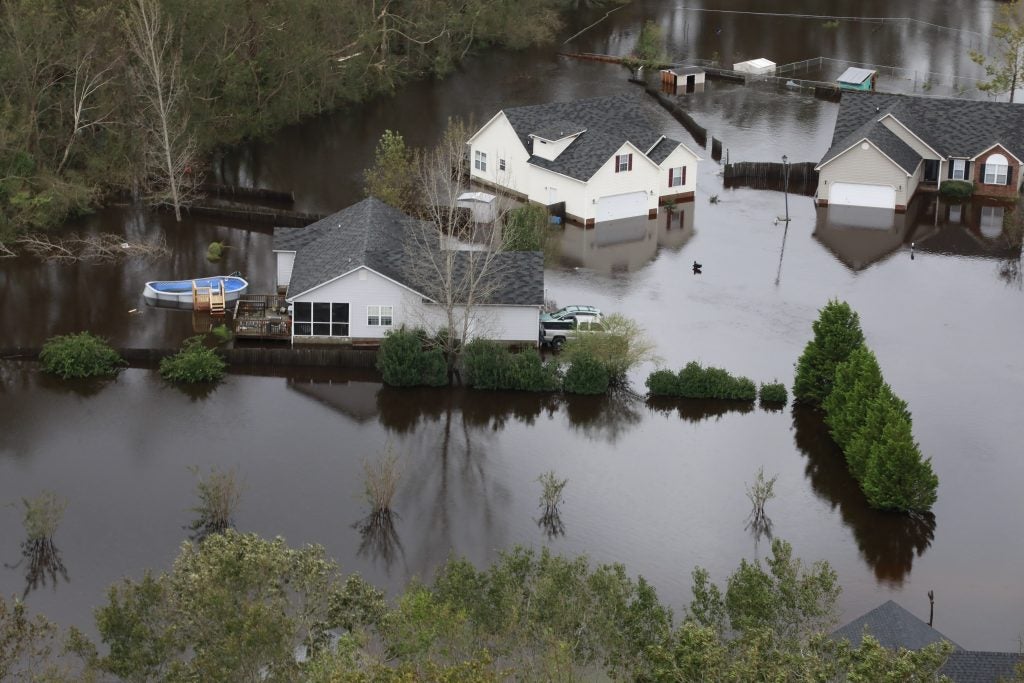 North Carolina State University researchers, working with EDF, the state Department of Transportation and others, are developing new hydrologic models to evaluate the potential flood reduction benefit to downstream communities from installing nature-based features on farmland. These models will be critical for ongoing community conversations as town leaders engage with agricultural landowners to find shared, local solutions.
2. Engage locals to design shared solutions:
Thankfully, there is a significant consensus emerging from diverse constituencies for doing things differently. Over the past year, local communities, farmers and government officials have begun exploring new strategies to meet the current challenges. This includes holding more water where it falls and storing it away from homes, businesses and critical infrastructure.
3. Dedicate funding to natural infrastructure:
Natural infrastructure can be built quickly and across the landscape to help limit the impacts of flooding. This infrastructure includes farm ponds to hold excess waters, new wetlands, stream restoration to reconnect floodplains, tree planting along riparian corridors to slow water and other features to make landscapes spongier. On this one-year anniversary of Hurricane Florence, North Carolina must remember all those who are still suffering, while celebrating the important progress we have made. Click To Tweet
4. Ensure coordination at all levels of government:
Over the past 12 months, North Carolina has taken important steps toward a more resilient future. Republican leaders in the legislature created a new agency, the North Carolina Office of Recovery and Resilience, to coordinate recovery and resilience efforts across state government. As part of this effort, North Carolina became the first state to hire a chief resilience officer with the task of planning beyond the current recovery to consider how to reduce impacts from future events.
On this one-year anniversary of Hurricane Florence, North Carolina must remember all those who are still suffering, while celebrating the important progress we have made. Now – before the next storm — is the time to redouble our efforts and investments in making North Carolina stronger and more resilient as we adapt to a new normal of weather.