With the start of another Atlantic hurricane season, coastal residents from Texas to New York should hope for the best and prepare for the worst. While the current prediction is for a close-to-normal 2019, prior years have demonstrated that it only takes one storm to bring widespread devastation.
In 2018, Hurricane Michael became the first Category 5 storm to hit the continental U.S. since Hurricane Andrew in 1992. Communities are still recovering from the unprecedented 2017 Atlantic Hurricane season, which caused $282 billion in damages, including $92.2 billion in Puerto Rico and the U.S. Virgin Islands from Maria and $128.8 billion from Harvey in Texas.
Through this devastation, we have learned several important lessons about how to better prepare for and react to storms to reduce damages and hasten recovery.   
Harvey: Restore natural areas to reduce flooding
In addition to swamping homes in Houston and the surrounding region, Harvey's record-breaking rains resulted in releases of toxins from oil refineries and petrochemical plants. Harvey painfully illustrated the consequences of paving over large portions of water-absorbing prairie and allowing unfettered development adjacent to flood prone bayous. Restoring pervious soils, making room for bayous and multi-purpose retention basins will help reduce future flood damages.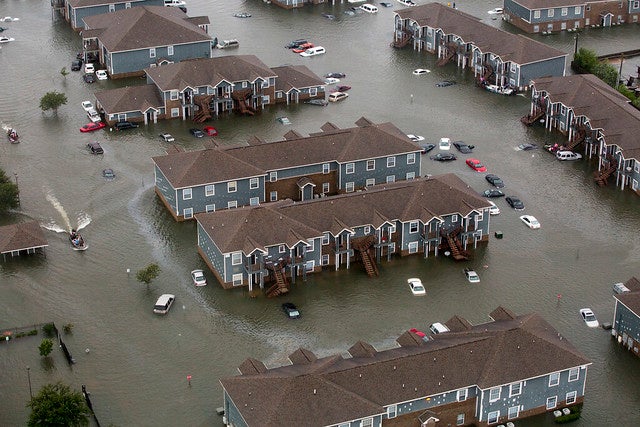 Irma: Develop strong communications tools and evacuation and return strategies
Irma underscored the importance of personal responsibility, supply chains and communication. When a mandatory evacuation was issued for the 125-mile-long Florida Keys, many people lacked water and sufficient gasoline for the trip. Supplies were rapidly depleted, which raised tensions and hampered evacuations. After hearing from worried and angry property owners wishing to return home to assess damage, emergency officials created new systems to communicate with evacuated residents and to train officials to allow some residents in sooner.
Maria: Improve infrastructure and reduce inequalities before disasters
Maria showed us that poorly maintained electrical grids increase vulnerability and extend recovery periods. It also showed us that disaster recovery practices can exacerbate inequality. To address both of these challenges, EDF is looking at dispersed micro-grids based on renewable power as more resilient and sustainable approaches for islands and isolated communities.
Florence: Advance comprehensive, sustainable floodplain management
Florence's extensive flooding devastated coastal plain communities in North Carolina, damaging infrastructure, businesses and homes, and displacing and isolating residents. This flood, and several prior, revealed an urgent need for more holistic approaches to watershed, land-use, and pollution and natural flood management solutions. Working together, these solutions can slow down water and reduce flood heights, lowering the cost of structural measures aimed at reducing risk.
Michael: Build more resilient structures
After Michael's devastating surge and wind passed through the Florida panhandle, a single house was left standing amidst the debris. This house demonstrated the value of building above the minimum requirements when you live in a high hazard zone. It was built to withstand 250 mph, while the Panhandle's code is to withstand 130 mph winds and Michael's gusts were 150 mph.
How this house survived Hurricane Michael https://t.co/Y47VhmPzYp via @YouTube

— EDF Growing Returns (@GrowingReturns) June 3, 2019
Florida's hazard informed building codes, enacted in the wake of Hurricane Andrew, were effective in minimizing damages and accelerating recovery for many localities in this storm and others. A National Institute of Building Sciences study shows that increasing roof strength in new buildings to meet the 2018 international building codes has a positive benefit-to-cost ratio for nearly every part of Florida (and an 8-to-32 return for every $1 invested for half the state).
Each hurricane is different, yet planners and emergency preparedness officials across coastal regions have an opportunity to examine hard lessons from the past to reduce damages and make individuals and communities safer and more resilient. Let's hope a normal season gives communities the time and space to get better prepared.