Hurricane Florence's arrival so soon after Hurricane Matthew serves as an urgent reminder that new, effective and rapidly implementable solutions are required to meet the challenges of a new normal of extreme weather.
"It's clear that we're going to have to build back not only stronger, but smarter. When you have two so-called 500-year floods within a 23-months period, you know we're not talking about 500-year floods. We've got to work to make sure we make smart decisions."

– North Carolina Gov. Roy Cooper after surveying extreme flooding from Hurricane Florence
It's time to invest in three proven approaches to flood preparedness and economic development so that our communities can bounce forward to a more prosperous, safe and resilient future.
1. First, we must protect people
As extreme weather becomes more frequent, local residents and communities are realizing that some areas are no longer safe. To support these communities, policymakers need to provide substantial, sustained funding for buyouts and buildups of repeatedly flooded homes, farms, businesses and public infrastructure.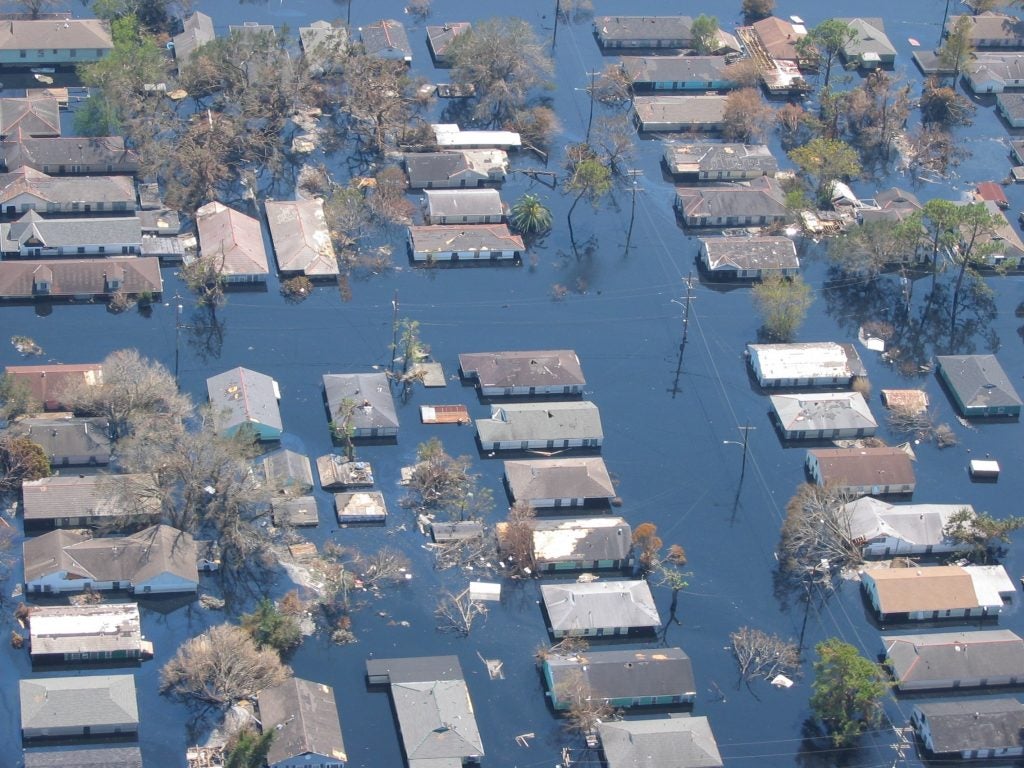 The most cost-effective way of reducing loss of property (and in many cases, loss of life) in flood-prone areas is for the state or federal government to purchase the building outright and remove it from the floodplain. A buyout program must be robust and well designed in order to alleviate the risks and hardships faced by flood-prone property owners and communities.
But there are still concerns with buyouts.
First, voluntary buyout programs can result in a checkerboard of vacated properties, interspersed with remaining properties. This grid effect hinders the full use of the floodplain for recreation, flood reduction or other compatible uses. Second, buyout programs have the potential to reduce tax revenue that is already scarce in economically distressed communities.
Policymakers need only look to North Carolina's recent past for examples of how to develop buyout programs that move citizens out of harm's way, while ensuring that they remain in the communities they call home. This includes providing incentives for neighbors to jointly enter buyout programs and providing funding to communities that promote buyout programs to offset impacts to tax revenue.
2. Rebuild inclusively
"The recovery effort must engage and empower diverse partners at the community level to develop inclusive solutions."
The people hit hardest by Hurricane Florence don't live at popular beach destinations or the prosperous towns around North Carolina's metropolitan centers. They mostly live in rural communities that often lack access to adequate financial resources and face diminished infrastructure.
Durable solutions to this region's challenges can't be designed in conference rooms in the state capitol. They must come from the people who live in the communities most affected by flooding.
We can solve North Carolina's manure challenges. Here's how.
Rebuilding such rural communities requires active, sustained engagement to align strategic interests and invest in shared economic priorities. Assets are plentiful in eastern North Carolina, but they are not sufficiently aligned for communities that need them the most to recover and rebuild.
The recovery effort must engage and empower diverse partners at the community level to develop inclusive solutions that build on existing assets and reduce threats from future environmental disasters.
3. Reactivate natural infrastructure
To prosper in the decades ahead, rural communities need stability and certainty that the investments they make today will yield lasting, productive outcomes. This requires mitigating the potential impacts from future flooding and other extreme weather events.
To do this, our leaders need to promote a rapidly implementable suite of actions to reduce floods that includes reactivating floodplains, creating new wetlands and incentivizing upland landowners to store more water during storm events.
While public officials often think first of new dams and reservoirs to protect communities from flood risk, such approaches are costly (tens to hundreds of millions of dollars) and slow to permit and build (often a decade or more). In addition, they bring with them new environmental challenges and will not always provide the protection they promise from extreme weather events in decades to come.
A similar level of financial investment in nature-based flood reduction practices, such as wetland creation, floodplain reconnection, stream restoration and upland practices can yield substantial floodwater storage within a few years, instead of decades.
Public and private sector expertise and systems already exist in North Carolina to rapidly establish a program that could deliver natural infrastructure projects to maximize flood water storage in priority watershed locations.
A new way of thinking, based on lessons from the past
All of these approaches require new ways of thinking about how our communities live with water. They also require substantial coordination across governments, institutions and stakeholders.
But they are based on strategies that have proven to be successful in other places that deal with repeated flooding, like coastal Louisiana.
Florence is a vivid reminder that we must act quickly, with new approaches and at a much larger scale. With bold leadership and a sustained commitment, North Carolina can emerge from Hurricane Florence stronger and more resilient.