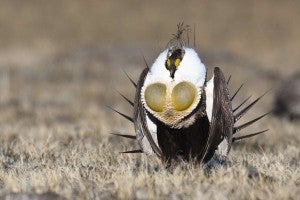 U.S. Department of Agriculture (USDA) Secretary Tom Vilsack today announced a four-year strategy to invest more that $200 million in greater sage-grouse conservation efforts.
The strategy, known as Sage Grouse Initiative 2.0, will build on successful public and private conservation efforts to improve sage-grouse habitat by providing additional assistance for ranchers to make conservation improvements to their land.
It's encouraging to see USDA remaining at the forefront of federal efforts to move sage-grouse protection forward. This funding is a huge boost for sage-grouse, but there are opportunities through emerging programs for impact industries to do even more to protect this iconic bird.
More investments needed
Ranchers are absolutely essential to the success of the greater sage-grouse. They have proven to be willing and committed partners in conservation, so investments like this that tap into the abundant potential of private, working lands deliver the best strategy for recovery.
But we need more.
"I applaud America's ranchers for their initiative in improving habitats and outcomes for sage grouse and other wildlife, and for their recognition that these efforts are also good for cattle, good for ranching operations, and good for America's rural economy." – USDA Secretary Vilsack
Habitat exchanges are one emerging program being developed by ranchers, energy companies and conservation groups to that offer financial incentives for industry and the agriculture community to invest in conservation.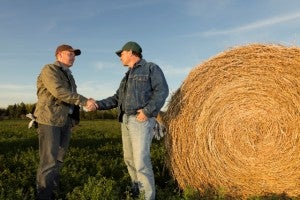 In a habitat exchange, farmers and ranchers create, maintain and improve habitat on their property and earn credits for their efforts. Farmers and ranchers sell these credits to industry to compensate for development, such as roads, transmission lines and other infrastructure that impact species and habitat.
An investment through a habitat exchange is not just an investment in the greater sage-grouse. It's also an investment in America's rural economy.
The sooner, the better
The U.S. Fish and Wildlife Service faces a Sept. 30 deadline to decide whether or not the greater sage-grouse requires protection under the Endangered Species Act. Either way it falls, the decision will be momentous, as it will not only decide the fate of one bird, but it will also have major implications for U.S. agriculture and energy production.
Now is not the time to be complacent. We need to build on the momentum of investments like this one by USDA to make sure private industries and the 11 sage-grouse states are doing everything they can to ensure sage-grouse success.
We should all be invested in assuring the long-term sustainability of the greater sage-grouse, both for the economy and the environment