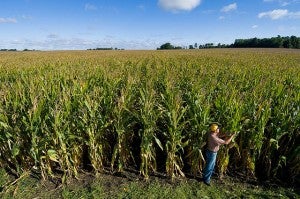 Earlier this month, the USDA authorized nearly $400 million in federal funds through the Regional Conservation Partnership Program (RCPP) to improve soil quality, water quality and quantity, and wildlife habitat.
The program funded 115 initiatives covering a wide range of conservation benefits, from improving wildlife conservation efforts in California's ricelands to reducing fertilizer runoff in the Mississippi River Basin.
These projects demonstrate that by prioritizing spending of conservation dollars on projects where large numbers of farmers are committed to cooperative conservation, we can avoid the need for costly regulatory programs.
Helping farmers helps everyone
"We're giving private companies, local communities and other non-government partners a way to invest in a new era in conservation that ultimately benefits us all." – USDA Secretary Tom Vilsack
USDA Secretary Tom Vilsack said that the program will support rural economies, paying contractors and small businesses to do the hands-on work. With heavy attention paid to the interest and willingness of farmers in key regions, I am excited to see the results of these local investments.
Here are two examples of local projects with big potential to help wildlife, people and the economy:
1) Protecting valuable wildlife in California's Central Valley
The California Rice Commission is the lead partner on a project that will allocate $7 million in voluntary waterbird conservation projects in the Sacramento Valley.
California ricelands provide habitat to nearly 230 wildlife species – millions of birds that fly along the Pacific Flyway. The value of winter waterfowl habitat in California Rice is estimated at $2 billion.
Large numbers of rice growers have indicated willingness to enhance waterbird habitat, but cost is a limiting factor. The chance to match willing rice growers with federal funds that will unlock more habitat for birds is an opportunity that we can't afford to pass up. I am pleased that NRCS has prioritized California's piece of the Pacific Flyway for this level of investment and can't wait to see these cost-effective habitat projects on the ground soon.
When combined with complementary wildlife conservation projects like the Central Valley Habitat Exchange, Sacramento Valley famers will be delivering significant conservation that will not only help wildlife, but also the local community and economy.
2) Reducing phosphorus in the Western Lake Erie Basin
The Tri-State Western Lake Erie Basin Phosphorus Reduction Initiative will receive $17.5 million in funding to help farmers implement conservation practices that reduce phosphorus runoff, which contributes to algal blooms like the one that shut down Toledo's water supply in August.
The funds will help identify high-priority sub-watersheds for phosphorus reduction and increase farmer access to resources and technical assistance to implement conservation practices to ensure and preserve water quality.
Farmers in the Western Lake Erie Basin are already playing a key role in protecting waterways and drinking water by voluntarily conducting research on their fields to better understand how to achieve greater efficiencies in nutrient management. Additional funding for this type of proactive approach is exactly what's needed to assure reliable water supplies in the future.
More funding to come
Funding for these projects was authorized in the 2014 Farm Bill at a level of $1.2 billion over five years, so there is more to come.
With close to 500 grant proposals unfunded in this round of spending, USDA is now looking to help strengthen applications for future rounds of funding, which will be announced later this year.
I am encouraged by the initial grants and look forward to seeing more funding flow to farmers investing in quality conservation.