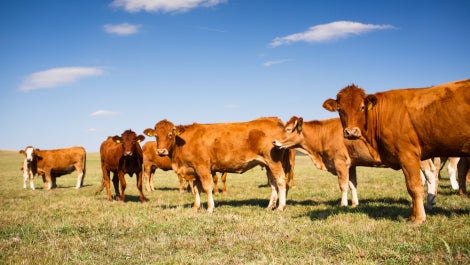 There's a growing excitement around spreading compost on rangelands to help fight climate change. Over the past four years we have learned that grazed rangelands are really good at pulling carbon out of the air and sequestering it in the soil below. And if you add compost just one time, you can capture carbon dioxide from the atmosphere for more than seven years. Plus, you'll  increase  both the quality of the grasses and the ability of the soils to hold water. If we scaled this to just 5 % of California's rangelands, we could capture approximately 28 million metric tons of carbon dioxide per year, which is about the same as the annual emissions from all the homes in California.
To measure the capture of CO2, we collaborated with Terra Global Capital to create a protocol to calculate the amount of CO2 and enable ranchers to generate carbon offsets which they can sell on the voluntary carbon market.
Right now we're  in the middle of a public comment period for this protocol –  Emissions Reductions from Compost Additions to Grazed Grasslands. After public comment is over the protocol will go through a peer review period, and then be approved and published by the American Carbon Registry.
This protocol quantifies the emission reductions from diverting organic materials from landfills and spreading it on rangeland to spur carbon capturing grass growth. Recent waste studies estimate that approximately 72% of the waste stream going to landfills is organic (6% wood, 7% textiles/leather, 13% yard debris, 12% food scraps, 34% paper). By accurately measuring how much we divert and sequester, we can also correctly reward landowners for their good work. With our partners, University of California at Berkeley and the Marin Carbon Project, we've already seen the beneficial impacts through pilot projects on rangeland in Marin, Sonoma, and Yuba counties.
A large portion of United States rangeland is privately owned and managed, so we need to ensure that ranchers' interests are represented in this conversation. Diverse perspectives will help us improve the protocol now and increase its potential adoption in the future.
Share your comments during the public period on this innovative way to improve the environment, and then spread the good news.