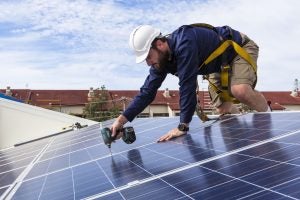 By: Jake Hiller, Sustainable Finance Manager, EDF+Biz 
Hurricane Michael, the most powerful storm to hit the Florida panhandle on record, caused loss of life and rampant destruction, flattening entire towns and leaving more than 1.3 million people without power across five southeastern states.
Rising temperatures and warmer waters are making this and other recent mega hurricanes like Florence stronger and more devastating for coastal states like Florida and the Carolinas. Unfortunately, the recent Intergovernmental Panel on Climate Change (IPCC) report provides little encouragement and instead conveys dire warnings that unless measures such as massive new investment in clean and renewable energy occurs over the coming decade, we will have little chance of avoiding the worst impacts of climate change, including continuously worsening hurricanes.