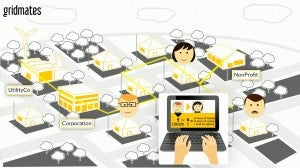 At Environmental Defense Fund, we advocate for policymakers, utilities, and other decision makers to design programs and support policies that enable everyone to benefit from a clean energy future, especially low-income families who are disproportionately affected by pollution from power plants. Recently, in Texas, a new innovation caught our eye that brings this concept to life.
This post is an interview with Gridmates CEO George Koutitas, who is harnessing the Internet, crowdsourcing, and generosity to bring light and warmth into homes that otherwise wouldn't have power. 
What is energy poverty? In the U.S. and Texas, how many live without electricity or struggle to pay for their electricity bill each month?
In the U.S., approximately 48 million people are at or below the poverty line and may be suffering from energy poverty, meaning they cannot afford to pay for electricity and other utilities. In Texas, more than 4.6 million people are living in energy poverty. These are low-income families and, in some occasions, they owe a $5,000 accumulated debt to utilities. This debt often leads to energy service disconnections, leaving families without heat and power. Thankfully, in 2014, the Low Income Home Energy Assistance Program (LIHEAP) provided energy assistance to roughly 6.9 million households nationwide, but this is just the tip of the iceberg. Read More »