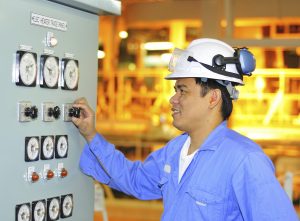 If you are anything like the typical Californian, you likely took the opportunity to get outside this summer and explore the great outdoors. Chances are you also took plenty of insect repellent to avoid becoming the latest offering at the mosquito buffet. Here in the Golden State, the California Public Utilities Commission (CPUC) is also fighting off BUGs – lest you think the CPUC is branching out into new regulatory territory, they are targeting the kind that harm our environment and public health: back-up generators (BUGs) that run on fossil fuels.
State regulators recently issued a proposed decision to end the use of fossil-fueled BUGs as a form of demand response – a clean energy tool intended to reward people who reduce their electricity use during periods of peak demand, or shift it to times of day when clean, renewable energy is abundant. Unfortunately, dirty, fossil-fueled generators are sometimes used to reduce demand from the electric grid during demand response events, but this does not help California meet its aggressive climate or clean energy goals.
Demand response programs should encourage people, buildings, and companies to use energy in a way that reduces the state's need to make electricity from polluting sources. That's why the CPUC's recent proposal is a huge, positive step forward. However, there are also some changes that could make these advancements even more impactful.
How the CPUC could give the decision some teeth
Administrative Law Judge Hymes, who authored this decision, adopts an overarching goal for demand response programs to "assist the State in meeting its environmental objectives, cost-effectively meet the needs of the grid, and enable customers to meet their energy needs at a reduced cost." In jointly filed comments, Sierra Club and Environmental Defense Fund (EDF) strongly support this sweeping reform, which precludes the use of diesel, natural gas, gasoline, propane, and liquefied petroleum gas in BUGs used as demand response.
While we applaud Judge Hyme's decision that BUGs defeat the purpose of demand response, there are a few things that could make the decision even stronger:
Ensure impact – The language in the proposed decision could be interpreted as delaying action stating, "The Commission should adopt a clearly identified prohibition." Instead, the CPUC should make it clear that approving Judge Hyme's decision would prohibit the use of BUGs as a form of demand response.
Ensure enforcement – Currently, the prohibition as written allows non-residential customers enrolling in demand response programs to merely attest, or certify, that they are not using fossil-fuel powered BUGs. Without any additional monitoring, this kind of enforcement amounts to a prohibition without teeth. Rather than essentially taking a demand response enrollee's word that they are not using dirty BUGs, it is imperative to construct a much more robust monitoring and enforcement program.
If implemented, these changes would make the CPUC's proposal even more impactful – ensuring BUGs don't undermine California's demand response programs.
[Tweet "New California Demand Response Decision Comes Equipped with BUG Repellent"]
The role of utilities
The proposed decision also addresses changes to how demand response is valued in the wholesale energy market, where demand response providers compete for contracts with California's three big utilities: Pacific Gas & Electric, Southern California Edison, and San Diego Gas & Electric.
The accepted contracts count toward each utility's Resource Adequacy requirement – the framework California uses to make sure the state has sufficient power supply to maintain reliable electricity services. Demand response ensures utilities can meet this requirement by offering a quantifiable amount of demand reduction (by lowering overall demand, the utility requires less electricity from power plants).
Unfortunately, the proposed decision preserves the utility role as "administrator" of the demand response auction mechanism. This is troubling, as it continues the potential for utilities to preserve what has traditionally been a relatively opaque and anti-competitive process that doesn't always lead to procurement of the most clean, cost-effective resources. Instead, the market should be structured in a way that shifts administration responsibility to an independent and objective entity, and allows utilities and third parties to compete on an even playing field. Under these circumstances, there is a much better chance for a fair market that cultivates innovative, cost-effective resources.
With these changes, EDF believes the CPUC will be well on the way to a competitive, BUG-free demand response program.