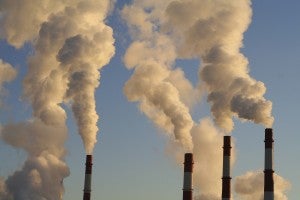 My head feels whipsawed by the wildly changing proposals to bail out FirstEnergy's uneconomic and dirty power plants. The latest development in this ongoing saga occurred June 29, when the Public Utilities Commission of Ohio (PUCO) staff recommended a new subsidy solution for the utility behemoth: $131 million per year over three years.
While this proposal is, blessedly, 90 percent less than FirstEnergy's original $4 billion bailout proposal, it's still an unnecessary subsidy that Ohio taxpayers should not be forced to shoulder. Hearings on whether the PUCO commissioners should approve the deal begin today.
There may be a saving grace, however: The new proposal seems to be illegal. PUCO staffers suggest this "refurbished" bailout is needed to enhance FirstEnergy's credit rating. (The theory here is the utility is in such financial straits because of bad business decisions that rating agencies, such as Moody's and Standard and Poor's, may downgrade the utility's rating below investment grade, which would make any new financing efforts more expensive.) The relevant law does allow the commission to make such grants, but only "in case of any emergency." FirstEnergy may not be flush, but it's not about to close the doors, and it has seen its stock price rise some 10 percent in the past few weeks.
FirstEnergy, of course, doesn't want to suggest publicly it faces an "emergency," since such a statement would frighten investors and tank its stock price. Yet privately, the utility does seem to use those threats at the PUCO, as evidenced by the staff suggesting FirstEnergy obtain the $131 million annual subsidy only if it keeps its headquarters in Ohio.
PUCO staffers suggest the bailout would provide benefits to Ohio. They argue, for instance, the subsidies would be used to modernize the grid, yet the company has not submitted, nor has the PUCO approved, a grid-modernization plan. PUCO rules require utilities to show the benefits of such investments outweigh the costs. The company must also show it can recover those costs after it's proved the money was spent prudently. Neither of these steps are being taken. The PUCO staffers are recommending FirstEnergy receive the money before making any grid modernization investments, and without any showing the money has been spent prudently. Moreover, the staff is not recommending any restrictions be placed on the funds, allowing the company to use the subsidy in any way it pleases, like increasing the dividend to its shareholders rather than upgrade the grid.
[Tweet "Ohio Regulators Attempt to Keep FirstEnergy Afloat with New Subsidy Proposal"]
This latest proposal comes after more than a year of back-and-forth negotiations between FirstEnergy, state regulators, federal regulators, and opposition from consumer and environmental advocates.
Starting in August 2014, the giant utility initially sought $4 billion to underwrite power purchase agreements that would have allowed one FirstEnergy affiliate to buy expensive power from another FirstEnergy affiliate. Despite opposition from the state's manufacturers, consumers, environmentalists, and competitive electricity suppliers, the Public Utility Commission of Ohio (PUCO) in March 2016 actually approved the bailout. Fortunately, the Federal Energy Regulatory Commission (FERC) shortly thereafter required FirstEnergy to prove it followed a competitive procurement process for this contract. Of course, FirstEnergy could not make this showing so it withdrew its proposal.
FirstEnergy in late May proposed another $4 billion bailout, but this time tried to shield it from FERC review. This time the corporation suggested the subsidy go directly to its electricity-distribution affiliate, without guaranteeing the uneconomic power plants would continue to operate. Environmental Defense Fund (EDF) and others suggested the sleight of hand did not even pass the laugh test.
Rejecting any and all such subsidies would be best for Ohio's manufacturers, consumers, and environment.
PUCO staff in late June agreed this new proposal should be rejected, but their latest solution – $131 million per year over three years – is no solution at all. It's yet another bad deal for Ohioans.
FirstEnergy's justifications may be hurting my head, but one fact remains constant: The utility giant doesn't need, nor deserve, a bailout. Rejecting any and all such subsidies would be best for Ohio's manufacturers, consumers, and environment.