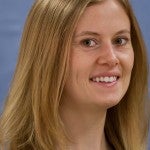 By Amy Kochanowsky, 2011 EDF Climate Corps Sector Fellow at New York City Housing Authority, MPP candidate at Duke University, Durham, NC
Things are always changing in New York City – whether it's the former rail line turned urban greenspace, the construction of a new World Trade Center, or the recently  added calorie counts on menus. New York has always been a city ahead of the curve, and the New York City Housing Authority (NYCHA) is no exception. NYCHA has already done highly innovative work when it comes to energy efficiency, and I'm very fortunate to work with an organization that embraces environmental sustainability objectives.
As one of NYCHA's Energy Department interns this summer, I've seen examples of this innovative work first hand in my visits to housing developments. As I stood in the stifling heat of a NYCHA boiler room, the staff explained the ins and outs of the boiler system – how the boiler creates the steam that delivers heat to residents in winter. They pointed out the new instantaneous hot water heaters, which are devices that reduce energy usage by heating water only as needed instead of wasting energy by storing hot water. It's great to see all of this equipment up close, and talk to the people who really understand how to operate these systems. Being on the ground gave me an appreciation for the complexity of these heating systems.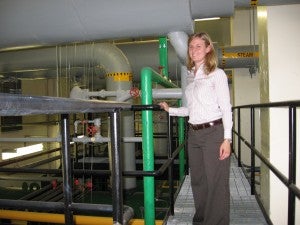 At first, seeing this new equipment made it seem as though NYCHA had already done everything possible to reduce its energy use. Working with the other intern, we were given a very intuitive task – our charge for the summer was to identify additional opportunities for energy efficiency and conservation. We started this task with the basics – analyzing current energy consumption and costs. From there we got a sense of how NYCHA uses its energy and where we had the opportunity to make an impact. Reflecting on the information we learned during EDF's week-long fellowship training, we realized that replacing existing exit signs with more energy efficient LED exit signs would be a good place to start. Simply by replacing exit signs, we enabled NYCHA to save more than $15,000 per year in electricity costs.
Sometimes it's hard to grasp the enormity of NYCHA. As the nation's second largest landlord (after the Army), NYCHA provides affordable housing for nearly half a million New Yorkers. The size of NYCHA means that my fellow intern and I have the ability and responsibility to make a huge impact. NYCHA pays the utility bills for residents at its developments, thus reducing energy use is good not only for the climate, but for their budget as well.
I hope our efforts and recommendations help NYCHA to achieve its energy and climate goals. I also hope NYCHA can serve as an example for other public housing authorities across the country on how to reduce energy use and create a more sustainable community.
EDF Climate Corps Public Sector (CCPS) trains graduate students to identify energy efficiency savings in colleges, universities, local governments and houses of worship.  The program focuses on partnerships with minority serving institutions and diverse communities.  Apply as a CCPS fellow, read our blog posts and follow us on Twitter to get regular updates about this program.