Rod Fujita, Ph.D., is a scientist in the Oceans program at Environmental Defense Fund.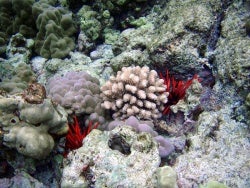 Coral reefs aren't just pretty places for scuba divers (although they do bring in billions of tourist dollars). These rich ecosystems supply the inhabitants of coral reef countries with the fish that they depend on as their main source of protein. Coral reefs, like rainforests, are also treasure troves of biodiversity that may hold the keys to fighting diseases like cancer and arthritis. Human wellbeing is tightly bound to the health of coral reefs.
Unfortunately, coral reefs are in trouble, and climate change plays a major role.