This blog was co-authored by Maggie Ferrato, Manager, Global Climate Cooperation and Pedro Martins Barata, Associate Vice President, Carbon Markets & Private Sector Decarbonization.

With the desert sands of Sharm El-Sheikh, Egypt behind us, we're looking ahead toward COP28—and the opportunity to make further progress on Article 6, a key component of the Paris Agreement.  
Article 6 outlines ways that countries can voluntarily cooperate to fight climate change, generate investment, and support sustainable development. The tools under Article 6 have potential to help countries go faster and further toward a safe climate future. 
After having a moment in the spotlight at COP26 in Glasglow, where negotiators delivered a strong rulebook for international cooperation, Article 6 drew fewer headlines at COP27. In Sharm El-Sheikh, countries deferred a number of decisions to the coming year but made progress on some technical pieces. However, in the coming year and during COP28, we need countries to provide more clarity on operationalizing Article 6.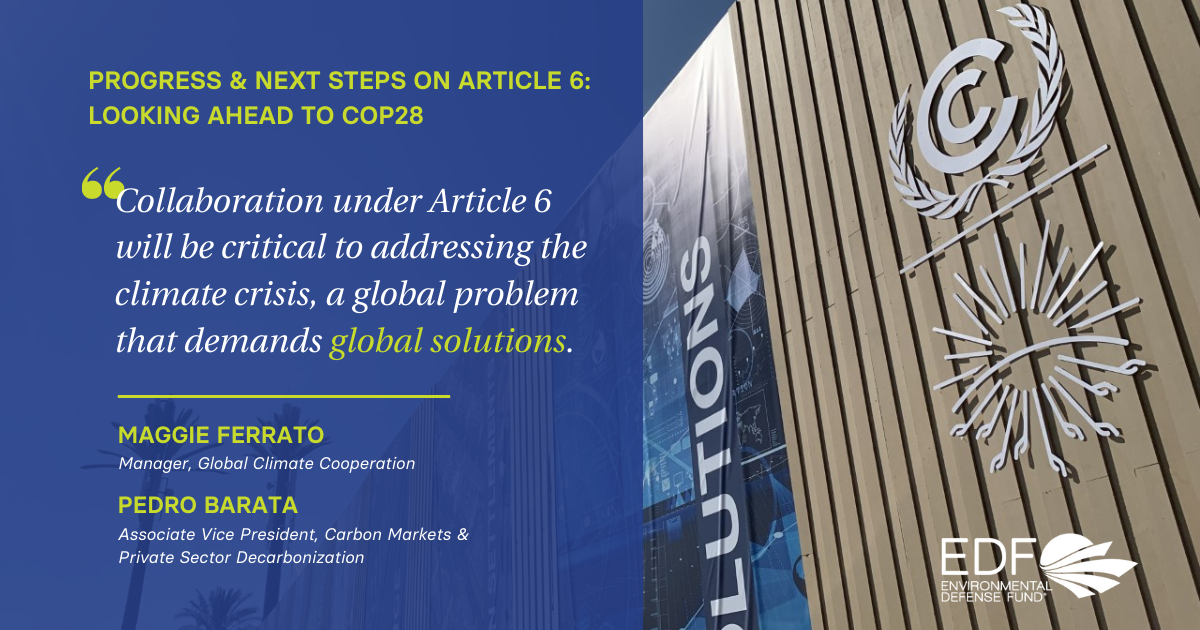 PROGRESS ON OPERATIONALIZING AT COP27 
Operationalizing Article 6 means developing reporting formats, agreeing on review processes, and building the infrastructure required to track transfers of credits between countries. These are all essential to provide clarity on whether and how countries are using Article 6 to cooperatively achieve their emissions targets. 
COP27 made progress on these three essential areas, with follow-up planned for COP28 and the following years: 
Reporting

. Negotiators at COP27 agreed on outlines for some of the key reports (e.g., initial report) but need to continue work, including on tools that are particularly important for reporting quantitative information (e.g., agreed electronic format).




 

Review

. Negotiators in Sharm El-Sheikh established a process to review the information that they are required to submit to the UN if they choose to participate in cooperative approaches. They'll continue work next year on how the UN and countries should respond when the review process identifies inconsistencies.
Infrastructure

. At COP27, Negotiators provided guidance on multiple elements of the Article 6 tracking infrastructure (e.g., registries) and clarified how these elements relate to each other. The UN climate agency will work for the next two to three years to deliver this infrastructure, including a platform that makes information on cooperative approaches available to the public. 
A NEW SUPERVISORY BODY WITH DECISIONS TO MAKE 
Operationalizing the rules means standing up a new Supervisory Body to oversee the centralized trading mechanism established under Article 6.4 of the Paris Agreement as a successor to the Clean Development Mechanism. This new body met three times before the session in Sharm El-Sheikh for substantial discussions. 
COP27 was meant to take stock of that progress and advance further key pieces of the architecture for the international trading and accounting of mitigation outcomes under Article 6.4.  
However, this work was not completed, and several key decisions are outstanding for COP28: 
Methodologies

. Before countries can begin using the centralized mechanism established by Article 6.4 of the Paris Agreement, the new Supervisory Body must develop and approve methodologies for the mechanism. Over the next year, the Supervisory Body will develop draft recommendations on how to apply the methodology requirements agreed by negotiators at COP26 in Glasgow.




 

Removals

. The new Supervisory Body must also further develop recommendations on activities involving removals.
KEEPING COOPERATION MOVING FORWARD 
Getting these key details of Article 6 right is critical to ensuring that Article 6 functions as a tool for greater ambition. Our analysis estimates that high-integrity international carbon market cooperation could enable countries to nearly double their mitigation ambition at no additional cost, provided they re-invest cost savings in additional emissions reductions. 
While the new Article 6.4 mechanism and other aspects of Article 6 will take more time to fully develop, countries can already cooperate using Article 6.2, which provides an accounting framework for bilateral or multilateral cooperation that results in the international transfer of mitigation outcomes. 
Countries are forging ahead to collaborate on climate action, and some notable milestones include: 
Switzerland and Peru

signed

the first Article 6 agreement in 2020, creating a bilateral framework for the transfer of mitigation outcomes. Switzerland has since inked similar deals with half a dozen other countries, including Ghana.




 

At COP27, Switzerland and Ghana

announced

the first authorization of internationally transferred mitigation outcomes (ITMOs). 




 

More and more countries are

exploring

similar cooperation, enabling them to buy or sell ITMOs. Singapore, Japan, Thailand, and Vietnam are other early movers in this space.




 
Collaboration will be critical to addressing the climate crisis, a global problem that demands global solutions. While countries work to make progress on Article 6, collaboration must continue, and countries should feel confident that rules are in place for a carbon market that promotes more and faster climate ambition and creates additional avenues for finance flows from developed to developing countries.