The regions that the Zika virus outbreak has struck hardest, such as Brazil and Colombia, also happen to be areas that are currently plagued by hotter-than-usual temperatures.
So is there a connection?
The ways that virus-carrying mosquitoes change their behavior with warmer temperatures may, in fact, point to a link between the Zika outbreak and climate change like the one that exists with malaria, Lyme Disease and other ills.
While it's important to remember that it's probably a combination of reasons for the current Zika virus outbreak – including movement of people and available breeding grounds – there are three ways in particular that warmer weather may be contributing to the crisis: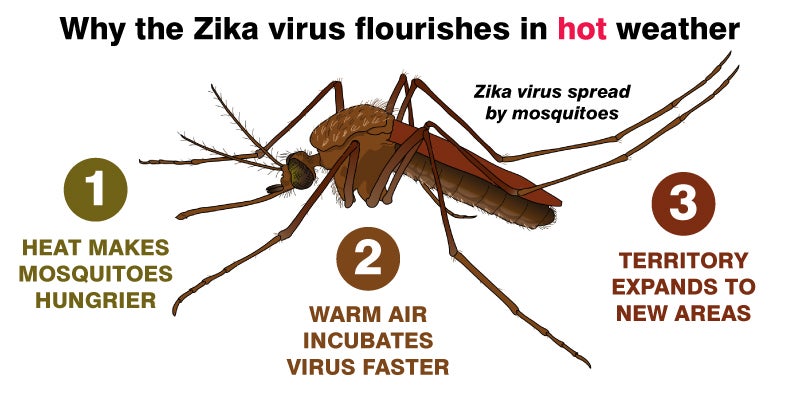 1. Hotter temperatures make mosquitoes hungrier
Female mosquitoes require blood meals for reproduction. Along with many cold-blooded animals, mosquitoes feed more frequently with higher temperatures. The more they eat, the likelier they are to get infected and spread the disease.
2. Warm air incubates the virus faster
A virus must incubate inside a mosquito before the mosquito becomes infectious. That takes about 10 days, roughly a mosquito's lifespan, so the mosquito will often die before it can spread the disease.
But hotter temperatures speed up the incubation process in the cold-blooded mosquito, because the virus can replicate faster. This means that the mosquito will be alive longer while infectious, thus having more time to transmit the disease.
3. Mosquito territory expands as the climate warms
Mosquitoes flourish in warm climates, restricting their range based on temperature. But with climate change, plants and animals are moving northward and upward, and we know mosquitoes do the same as new areas become warmer and a suitable habitat.
As mosquitoes expand their range, they can introduce diseases to populations that otherwise would have been safely out of reach. The distribution of the Zika-carrying mosquito, in particular, has wildly increased over the past few decades, which have also been the hottest decade on Earth in more than 1,000 years.
In fact, the current epidemic took off in 2015, the hottest year in South America and globally since record-keeping began 136 years ago.
The links between mosquitoes and temperature are scientifically clear, and it's possible that climate change may now be playing a role in the spread of the Zika virus, a disease suspected of causing serious birth defects.
To know for sure, and to help nations deal with the outbreak, more research is needed to tease out the specific causes of this global catastrophe.
This post originally appeared on our EDF+Voices blog.