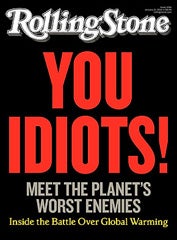 The latest cover of Rolling Stone magazine didn't feature an indie star or up-and-coming talent.  Instead, a simple black background pushed forward the words "YOU IDIOTS: meet the planet's worst enemies" and drew readers' attention to climate change.
The 13-page article went through the latest chapter in climate legislation, without pulling any punches.  It called out every major obstacle to climate legislation from the Heritage Foundation's disinformation to the "17 polluters and deniers who are derailing efforts to curb global warming."  (Two EDF experts were quoted in the piece as well: our president, Fred Krupp, and chief economist, Dan Dudek.)
While Rolling Stone writer Tim Dickinson captures a lot of the frustration felt in the climate campaign, he misses the mark when it comes to his closing. "The battle over global warming may already be over," he writes. "Where are the crowds marching the streets?" he asks.
We are here.
Well, we may not always be in the streets — but we are in the halls of Congress, pushing for action.  And the front lines are packed with some unusual allies — steel-town mayor John Fettterman, companies and labor unions, EDF climate activists (add your voice!), and many more. This week, President Obama, too, reminded Congress that they are not done.
This fight is far from over.