Another UN climate negotiating session has come and gone, the banners and tents swiftly dismantled, the delegates again scattered to the world's four corners. Most leave with a sense of progress – incremental, to be sure, but the meetings are slowly transforming into real negotiations. When the United States' new team hits the ground in January, the pace of negotiations will grow furious as we count down to the Copenhagen talks in December.
Here are the highlights from a week packed with negotiations, side events and planning sessions.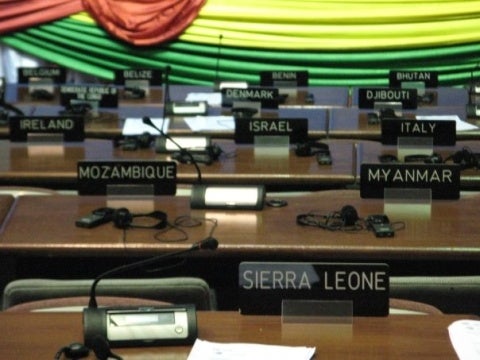 A key issue in these talks was how to engage developing countries in reducing global warming emissions. We wanted to build support for two mechanisms:
Reducing Emissions from Deforestation and Degradation or REDD – an approach to reducing emissions from deforestation and forest conservation (see summary article [PDF]). The REDD discussions made the most progress of any issue on the agenda. Our side event packed the meeting room, and we had to turn away dozens. Most parties expressed support, with E.U. negotiators citing EDF's economic analysis of how REDD effects carbon markets.

As part of our continuing efforts to integrate indigenous peoples' perspectives in these negotiations, we supported the participation of Juan Carlos Jintiach, Shuar indigenous leader from Ecuador and coordinator of the Washington-based Amazon Alliance. Also, EDF's Dr. Korinna Horta helped to coordinate an E.U. civil society forum on indigenous peoples and REDD. This was attended by about 40 NGO and indigenous leaders from developing countries.

Clean Investment Budgets or CIBs – a new approach to encourage developing countries to cap their emissions (see summary description). At our side event, Dr. Gernot Wagner (EDF economist) and Dr. James Wang (EDF climate scientist) presented new analyses of CIBs.

The event was crowded despite two last minute room switches, and a competing event by the E.U. in the same time slot. A senior U.S. negotiator told me, "I figured that if it was a proposal by EDF, I'd better be there since it could get traction." It was the first side event he'd attended in two years!

We also caught the attention of several developing countries and emerging economies, including a former Soviet republic. A member of their delegation asked if we could run the numbers for them, or had a Russian-speaking economist who could help them do it. It was extremely gratifying to be able to tell him, "Yes! Producing in Russian is no problem."

We got some skeptical questions about what is admittedly a work in progress. But we reminded ourselves that we faced much greater skepticism when we introduced emissions trading, and that became a pillar of the Kyoto Protocol.
Our delight in Ghana's warm and generous hospitality was slightly tempered by the long delay at the airport, but even that had a silver lining. I found an outdoor café near the airport to await boarding. And there I finally got to deploy my binoculars, as several species of birds foraged for breakfast in the courtyard's palms and rubber trees.
Now that the talks are over, our team is compiling and digesting the intelligence gathered in Accra in preparation for the next round of talks in Poznan, Poland this December. It will be a busy fall!
This post is by Jennifer Haverkamp, managing director for international policy and negotiations at Environmental Defense Fund. She is writing from the climate talks in Accra, Ghana.