This post is by Gustavo Silva-Chávez, an international policy analyst in the Climate and Air program at Environmental Defense Fund.
Early this week, the team from Environmental Defense Fund started boarding planes for Accra, Ghana to attend the international Climate Change Talks. The official first day was Thursday, but Wednesday was busy with pre-meeting workshops.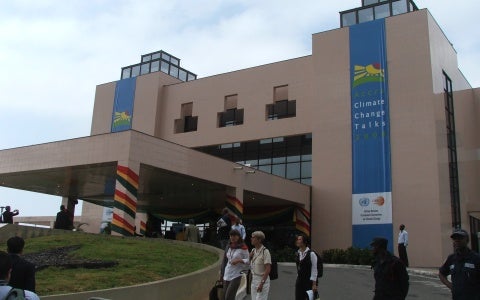 Steve Schwartzman attended a discussion of finance mechanisms for Reducing Emissions from Deforestation and Forest Degradation (REDD), where he spoke about the benefits of our market-based Compensated Reduction approach. Korinna Horta attended a workshop on encouraging participation of African countries in the global negotiations.
Jason Funk and I attended a workshop on increasing participation of developing countries in a future REDD system. The central issue is how to measure and monitor forests – which countries currently can do this, and which countries will need help in the form of financial and human capital. Workshop attendees came from all over Africa, Asia, and South America.
In the evening, the EDF team met for dinner and compared notes.
The Conference Begins
At 7:30 the next morning, a police escort with sirens blaring led us to the conference center in a caravan of other delegates and observer organizations. Dodging traffic and ubiquitous street corner vendors cut our travel time in half.
Our team registered and received our yellow NGO badges. Then, as Annie Petsonk did for me over five years ago, I gave the first-time members of our team a quick course on logistics and protocol. I described where to find documents, how to read official missives, and how an agenda item moves from introduction on the first day to agreement on the last day. And then I described how to talk to negotiators – what to say, what not to say, how best to approach them, and how and when to give negotiators EDF documents, flyers and invitations to EDF events.
After walking around to locate meeting rooms, the computer room, and the biggest coffee bar – every negotiator's favorite spot – we gathered in the main hall, where we are now. We were greeted with a traditional Ghanaian dance, complete with drummers and dancers in brilliant bright prints. The President of Ghana then opened the meeting, followed by the Minister of Rural Development, who welcomed the delegates and talked about Africa's extreme vulnerability to climate change. The rest of the morning, countries will give opening statements on their expectations for this meeting, their most important issues, and their thoughts on solutions.
The afternoon will be devoted to a workshop on "sectoral approaches", which some advocate as an interim measure for developing countries. Under a sectoral approach, greenhouse gas emissions limits would be applied to sectors (for example, the cement sector, the electricity generation sector, or the forestry sector) rather than the nation as a whole. Success might be measured as an absolute reduction in emissions, or as a reduction in the "intensity" of emissions (a decrease in pollution per unit of output).
Given the science, EDF does not believe a sectoral approach is adequate, nor is a reduction in emissions intensity. We advocate absolute, economy-wide caps on greenhouse gas emissions since this is the only way to reduce global emissions enough to avoid dangerous climate change.
Tonight the Ghanaian government will host a reception for delegates and observers. We're looking forward to the spicy, local food and the opportunity to meet negotiators in a relaxed atmosphere.
I'll let you know how it goes!