This post is by Tony Kreindler, media director for the National Climate Campaign at Environmental Defense Fund.
The main reason to pass climate legislation as soon as possible is that the fate of the world is at stake. We're in a race against time to stop global warming, or face irreversible climate catastrophe.
But there's also another race – the race to develop the clean energy technologies that will power our future. The world is at the dawn of a technological revolution, and we need the economic incentive of climate legislation to fully participate.
Global investment in clean energy is growing – rising to over $70 billion in 2007, as you can see in the graph below. But it isn't enough.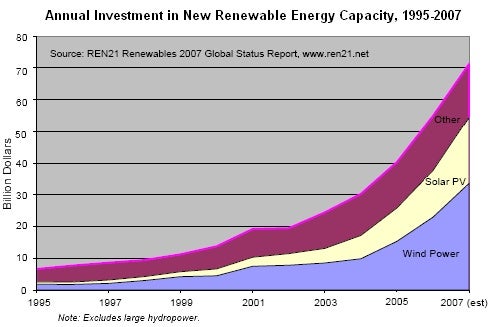 Source: REN21 2007 Global Status Report. Used with permission.
When you look at total world energy consumption over time, you can see how far we still have to go. In the graph below, renewables are shown in red. They're growing as a percentage, as you can see, but they still provide only a small fraction of the energy we use.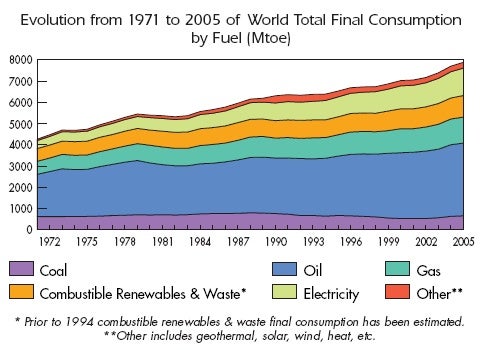 Source: IEA Key World Energy Statistics 2007.
What will it cost to meet future world energy needs? Global Energy Perspectives examined this question under different scenarios. The scenarios that minimize global warming have the lowest costs, but the cost of meeting future energy needs – no matter how it's done – is massive. The green (lowest-cost) scenario still requires over $9 trillion in energy investment from 1990 to 2020, and over $14 trillion from 2020 to 2050. That comes out to nearly $400 billion per year invested in renewables.
When you put it that way it seems overwhelming, but we're poised to do it. Here are just a few of the promising projects in the works (from Earth: The Sequel):
Cheaper solar energy from silicon nanocrystals dissolved in ink that can be printed onto any surface, including roofing material.
Redesigned viruses that assemble themselves into the most powerful batteries ever seen.
Reengineered yeast fermenting sugar into pure hydrocarbon fuel that any car, truck, or plane can use.
Biodiesel fuel from algae feeding on power plant smokestacks – priced competitively with diesel made from $60/barrel oil.
Clean, renewable energy from tides, waves, and geothermal heat.
But to bring these projects to market at a speed and scale sufficient to halt global warming, we must have the strong economic incentive of cap-and-trade legislation. Dupont CEO Chad Holliday, quoted in Earth: The Sequel, explains why this is so important:
You need some certainty on the incentives side and on the market side, because we are talking about multiyear investments, billions of dollars that will take a long time to pay off.
A similar view is expressed by the CEOs who lead the World Business Council for Sustainable Development in their report Investing in a Low-Carbon Energy Future in the Developing World [PDF]:
A lack of certainty over policies related to carbon pricing and GHG [greenhouse gas] reduction targets increases the risk of achieving a commercial return for low-GHG technology projects. While this uncertainty prevails, the bulk of potential private capital available will probably flow to traditional energy sources, or remain uncommitted until definitive policies, which underpin a pragmatic approach, begin to emerge.
These CEOs know what they're talking about. A study of global trends in renewable energy investment [PDF] found that a mandatory cap and carbon market significantly strengthen renewable energy companies:
The 'Kyoto Effect' can be observed, with quoted renewable energy companies in countries that have ratified the Protocol outperforming those in non-ratifying countries by 41.3%.
We're at the dawn of a global energy revolution. If we are to lead the world in clean energy technologies, we must create an environment that allows U.S. businesses to act. If we wait too long to pass climate legislation, we may find ourselves buyers rather than sellers.