This post is by Scott Anderson, an attorney and senior policy advisor at the Environmental Defense Fund. It's the second in a three-part series on carbon sequestration – storing carbon or carbon dioxide (CO2) in soils, trees, geological formations, and oceans.
1. Biological Sequestration
2. Geological Sequestration
3. Ocean Sequestration
---
To stop global warming, the U.S. must substantially move away from carbon-emitting fossil fuels to clean renewable energy. But a transition of this magnitude takes time. Right now this country is heavily dependent on coal for electricity, and traditional coal plants are none too clean.
How do we stop global warming while renewable technologies to meet our energy needs are still under development? Part of the answer may lie in an emerging transition technology called Carbon dioxide (CO2) Capture and Storage (CCS). The idea behind CCS is to capture the CO2 from industrial processes like coal plants, and then store it in deep geological formations.
CCS can dramatically reduce carbon emissions from coal plants. The IPCC's Special Report on Carbon Dioxide Capture and Storage says that "a power plant with CCS could reduce CO2 emissions to the atmosphere by approximately 80-90% compared to a plant without CCS." This is after taking into account the extra energy needed to capture and compress the CO2.
There is plenty of room for geologic storage. According to the Pew Center on Global Climate Change:
The United States has the geological capacity to store the emissions from its coal-fueled plants in depleted oil and gas reservoirs for several decades.
Capacity in other geological reservoirs is estimated to be in the hundreds of billions of tons (500 billion tons of capacity), enough to store current levels of domestic emissions for over 300 years.
Worldwide, according to the IPCC, there is a potential capacity in geological formations to store at least 545 gigatons.
How Geo-Sequestration Works
In geological sequestration, compressed CO2 is injected into porous rock formations. It's very much like pouring water into a glass of marbles, where the water represents liquefied CO2 and the space between the marbles represents available pore space in the rock found in deep saline formations or depleted oil and gas reservoirs.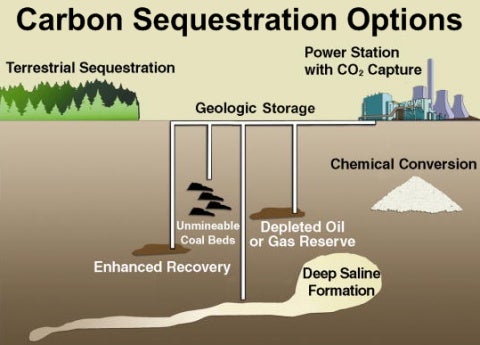 The technology for injecting CO2 into depleted oil and gas reservoirs already exists because of a process called Enhanced Oil Recovery (EOR), which has been in use for over 30 years. With EOR, oil not recovered in the initial withdrawal process is pushed to the surface by injecting CO2.
Safety and Regulation
But the CO2 in EOR isn't necessarily stored for the long-term – it's just injected. For geologic sequestration, the carbon ought to be stored for 1000 years or more without leaking back into the atmosphere. Not all depleted gas and oil reservoirs can meet this requirement.
Suitable sites, for example, must lie below and isolated from fresh water supplies, and ideally should have one or more layers of sealing caprock to prevent the CO2 from seeping to the surface. The requirements are still being explored in dozens of ongoing projects.
There is also ongoing work on developing regulations to select and monitor suitable sites. On January 31, I testified before the Senate Committee on Energy and Natural Resources on this topic (see full testimony [PDF]). Although CCS is ready to begin deployment today, widespread adoption won't take place until the regulatory and commercial framework has been fully implemented, and this could take quite a few years. We have called upon policymakers to develop a sound regulatory framework as rapidly as possible.
A Critical Transition Technology
Some argue that CCS diverts attention from the development of clean energy resources, but in fact CCS is a critical transition technology. Coal plants and other industries will continue to emit CO2 while alternative energy sources are developed and adopted. Earlier this year, the Commission of the European Communities issued a directive [PDF] emphasizing the importance of CCS in halting climate change:
Energy efficiency and renewables are in the long term the most sustainable solutions both for security of supply and climate. However, we cannot reduce EU or world CO2 emissions by 50% in 2050 if we do not also use the possibility to capture CO2 from industrial installations and store it in geological formations (carbon dioxide capture and storage, or CCS).
We're not champions of coal at EDF, but we are realists. Coal will be used to produce electricity for the foreseeable future, so we need technologies that allow coal to be used in a manner that avoids significant greenhouse gas emissions.