This post is by Lisa Moore, Ph.D., a scientist in the Climate and Air program at Environmental Defense.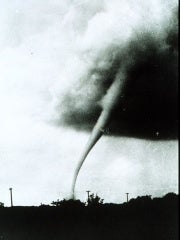 Yesterday, an unusually ferocious winter tornado system killed at least 55 people in five Southern states, and destroyed over a thousand homes and businesses. Usually tornadoes touch down for 20 minutes then come back up, but these were rare "long-track" tornadoes that stayed on the ground for 30 to 50 miles.
Lots of recent research indicates that global warming increases the intensity of hurricanes. Could it also affect tornadoes? It's too early to tell, but scientists are starting to look.
The relationship between global warming and tornadoes is a very new area of research. The IPCC's Fourth Assessment Report says that there is "insufficient evidence" of any changes in "small scale phenomena such as tornadoes, hail, lightning and dust-storms." So there's no trend, but a recent study by NASA found that "the most violent severe storms and tornadoes may become more common as Earth's climate warms."
Tornadoes are formed when warm and cold air come together, and according to the Weather Underground, yesterday's tornado outbreak was fueled by unusually warm weather. That's not definitive, of course, since no single weather event can be ascribed to global warming, but it makes you wonder. I'm glad scientists are starting to investigate.