This post is by Sheryl Canter, an Online Writer and Editorial Manager at Environmental Defense.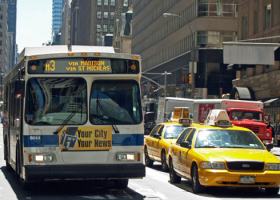 New York City suffers from some of the worst traffic congestion in the country, costing workers and businesses billions of dollars a year in lost time, and heavily contributing to New York's nearly worst-in-the-nation air quality. One in eight New Yorkers suffer from asthma. And New York is expected to add one million residents by 2030.
New York State charged a commission of elected officials, and environmental and planning experts with solving New York City's traffic crisis. Andy Darrell, Regional Director for Living Cities at Environmental Defense, was one of the commissioners. Today the commission voted to approve an historic plan to protect New Yorkers' health.
A key element of the plan is congestion pricing, where an electronically-collected fee system charges drivers more for using the most congested roads at the most congested times. This encourages drivers to instead use mass transit or to reschedule their trip. Cities around the world are successfully using congestion pricing to reduce traffic and pollution from vehicle exhausts.