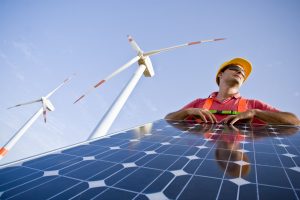 President-elect Trump's victory tour began in Indiana last week, where he and running mate Mike Pence announced they had cobbled together enough taxpayer cash to convince Carrier – a gas furnace manufacturer that planned to move 2,000 jobs to Mexico – to keep some of its jobs in the state.
But just two years ago, Governor Pence allowed Indiana to become the first state to abandon its energy efficiency standards – a move that Carrier and other companies warned would threaten nearly 1,500 jobs and $500 million a year in local economic investment. Evidently, losing 1,500 jobs wasn't enough to worry about. Yet two years and a presidential election later, saving 1,000 on the backs of taxpayers is held up as proof that Trump is making good on his promise to reinvigorate the American economy.
Politics is theatre, but what worries me about the Carrier announcement is that it underscores how our new president and vice president don't understand the true economic potential of clean, modern energy.
The clean energy industry – everything from wind turbines and solar panels, to home energy storage and energy efficiency – is exploding around the country. In 2014, the U.S. clean energy market grew by 14 percent – at nearly five times the rate of the overall economy – to nearly $200 billion. That's bigger than the U.S. airline industry, and roughly equal to the pharmaceutical business. And this growth is creating millions of quality, homegrown jobs. If Trump wants to be the jobs president he promised he would be, someone needs to brief him on the facts. Read More »