By: Jen Weiss, 2011 Climate Corps Public Sector Fellow at Shaw University; MEM candidate at the Nicholas School of the Environment at Duke University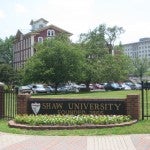 Climate Corps Public Sector (CCPS) helps universities, governments and houses of worship identify ways to improve energy efficiency and save money.
My mother always told me that when adversity strikes, look for the silver lining.
The staff and students at Shaw University (Shaw) in downtown Raleigh have learned this lesson the hard way. Six weeks ago, Shaw was hit by a tornado. Classes were cancelled and students were sent home as Shaw administrators surveyed the damage to the historical buildings that date back to 1865.
Thanks to the dedication of its students, staff and the Raleigh community, the university cleared the debris, assessed the damage and started over in a remarkably short time frame. Today, summer classes are in session and despite the boarded up windows, blue-tarped rooftops, and damaged trees, Shaw University is definitely back in business!
But, wait … the story can't end here – where is the silver lining? Read More »