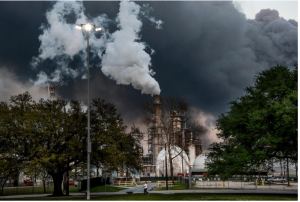 This weekend marks one year since Hurricane Harvey made landfall and wreaked a huge amount of havoc in Texas and other Gulf Coast states. While there are many lessons we can learn from the storm, and much finger pointing that can be done, one fact is clear: Trump's EPA failed to properly protect children and families in Houston from chemical leaks triggered by the storm.
We now know that Houston's vast petrochemical industry released at least 8.3 million pounds of air pollution in the wake of the storm, and that many of the area's toxic Superfund sites were improperly secured and subsequently flooded.
But perhaps worse than these impacts is the fact that one year later, the more than 134 million Americans who live near chemical plants and storage facilities, a disproportionate number of whom are people of color and lower-income, are still at great risk.
The Trump EPA's dangerous failures
During and after Hurricane Harvey, as well as Hurricanes Irma and Maria that followed, EPA failed to take important steps to protect families and neighborhoods from health threats:
Arkema chemical plant explosion: Neither EPA nor the Texas Commission on Environmental Quality (TCEQ) moved fast enough to monitor air quality issues at the Arkema plant when chemical drums caught fire and lids exploded. But a lack of data didn't stop them from reassuring residents about local air quality. To date, neither TCEQ nor EPA has taken any enforcement action against Arkema, despite the violations (although the company and its CEO and plant manager have been indicted for reckless emissions of dangerous pollutants).
Valero refinery leak: Hundreds of families in Houston's Manchester neighborhood may have breathed in concentrations of benzene that could have damaged their health. But neither EPA nor TCEQ tested the air there until news outlets had published independent air quality monitoring results showing high benzene readings that EDF and Air Alliance Houston paid to do (as did the city of Houston).