This post originally was published on the Energy Exchange Blog.
By Cloelle Danforth and Nichole Saunders.
Jennifer McPartland contributed to this post.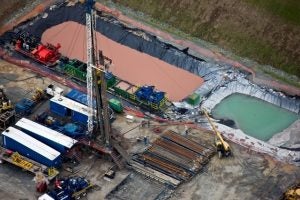 Collaborative research is a critical element for identifying unforeseen risks associated with using the oil industry's wastewater outside the oilfield. That's the recommendation of a new peer-reviewed paper accepted this week in the Journal of Integrated Environmental Assessment and Management (IEAM).
The paper comes at a crucial moment for the oil and gas industry, which generates some 900 billion gallons of salty, chemical-filled water (also called produced water) each year. Traditionally, companies dispose of this wastewater deep underground where it is less likely to cause contamination. But economics and water scarcity are forcing questions about other ways to treat, reuse and even repurpose this wastewater. In fact, the Environmental Protection Agency (EPA) will release a report very soon that could make it more common for companies to discharge their wastewater into rivers and streams.
The IEAM paper outlines the conclusions of a multi-day toxicity workshop where experts from the oil and gas industry, academia, government and the environmental community collectively identified key knowledge gaps associated with this waste stream and determined tools, technologies and methods needed to help close those gaps.