Richard Denison, Ph.D., is a Lead Senior Scientist.
Part 2 of a 4-part series – see Part 1, Part 3, and Part 4 here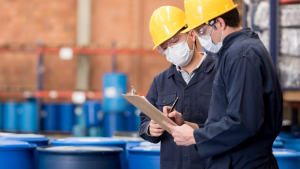 After our look back in Part 1 of this series at the damage done over the past four years, the remainder of the series will look ahead and explore opportunities to advance a more robust and holistic vision for implementing the Toxic Substances Control Act (TSCA) as reformed in 2016.
In this installment, we will discuss why legal and effective TSCA implementation demands that EPA undertake comprehensive assessments of chemical risks that supersede the media-specific limitations of other environmental laws.
Conditions of use

TSCA is the only federal statute that provides overarching mandates and authorities to comprehensively assess and mitigate chemical risks across all stages of a chemical's lifecycle, in all media, and to all exposed groups.
Under TSCA, risks of chemicals are to be both evaluated and managed with respect to their "conditions of use."  That term is defined in TSCA to mean "the circumstances, as determined by the Administrator, under which a chemical substance is intended, known, or reasonably foreseen to be manufactured, processed, distributed in commerce, used, or disposed of."
This expansive definition means that EPA must include exposures from activities that span the entire lifecycle of a chemical in evaluating and managing its risks.  EPA must also examine how such activities extend beyond those intended by the chemical's manufacturers, processors, and users to encompass ways the chemical is known or can be reasonably anticipated to be handled.  In determining whether a chemical presents unreasonable risk and how to manage that risk, TSCA requires EPA to consider exposures from these activities in combination, not just individually, and to make determinations of risk across all conditions of use of a chemical.
Each chemical activity EPA must evaluate and has authority to regulate can entail releases of and exposures to a chemical through multiple routes and pathways.  Chemicals may be released from industrial facilities making or processing them and contaminate air, water, land, or waste.  They may be present in workplaces and lead to worker exposures.  Distribution of chemicals – including storage, transfer and transport – can lead to incidental or accidental releases.  Chemicals used or present as impurities in products can expose consumers or workers when the products are made, used or disposed of.  Through TSCA's mandate that EPA consider all "conditions of use" of a chemical, Congress directed the agency to account for all of these exposures when identifying and addressing a chemical's risks.
Best available science
Holistically evaluating chemical risks is perfectly aligned with the best available science, which TSCA charges EPA to follow.  We know that people and the environment are exposed to chemicals from multiple sources and through multiple pathways, and that one's overall risk derives from the sum total of that exposure.  A person may be exposed to a chemical at work, through products in the home, and by breathing air or drinking water that has been contaminated with the chemical by releases from industrial sites – the latter exposures being far more likely for people living near such sources of release or contamination, which are often communities of color or low wealth.
The expansive nature of the authorities TSCA provides EPA to use in mitigating identified risks reinforces the law's broad reach.  EPA can prohibit, limit the amount of, or otherwise restrict a chemical's manufacture, processing or distribution for all or specific uses; and it can prohibit or restrict particular uses or methods of disposal of a chemical or a product containing a chemical.  These authorities extend to all environmental media as well as to workplaces and industrial, commercial and consumer products.
TSCA in relation to other federal laws
Given this expansive reach, it is notable (if not surprising) that TSCA explicitly addresses its relationship to other federal laws that may provide EPA or other agencies with authority that could potentially address some of these types of risks.  Once EPA has identified risk under TSCA that must be addressed, the law provides for EPA to consider whether aspects of that risk might best be addressed by another agency (e.g., the Occupational Safety and Health Administration) or another office within EPA pursuant to another federal law (e.g., the Clean Air Act).  If EPA determines that an aspect of the risk could be so mitigated, specific procedures are to be followed to ensure that such risk is fully mitigated using the other authority.
Critically, under TSCA EPA must first fully assess all exposures to a chemical in order to understand the risks it poses, before deciding how best to mitigate the risks it has identified.   Any consideration of using other statutory authorities is to follow the comprehensive evaluation of risk required under TSCA.  And even if EPA opts to use other laws to address some exposures, TSCA still requires that all steps needed to fully mitigate all of the risks EPA identified under TSCA are taken.  If, for example, EPA decides to use its authority under the Clean Water Act (CWA) instead of TSCA to restrict a chemical's release to surface water, EPA must ensure the action taken protects groups that are at highest risk even if that is not required under CWA.
In contrast to TSCA, other laws provide much more limited means and authorities for EPA or other agencies to address chemical risks.  Among other limitations, each such law only authorizes EPA to restrict a chemical's release to a specific environmental medium (e.g., releases to air) or setting (e.g., releases in workplaces).  TSCA is the only federal statute that provides overarching mandates and authorities to comprehensively assess and mitigate chemical risks across all stages of a chemical's lifecycle, in all media, and to all exposed groups.
The Trump EPA thwarted this approach at every turn, diluting and breaking apart TSCA's broad mandate in myriad ways.  Among other failings, its risk evaluations ignored or downplayed:
exposures of the general population to chemical releases to air, water, land, and waste;
exposures of fence-line communities living near sources of releases;
exposures of workers in industrial facilities or using industrial or commercial products;
exposures to chemicals present as impurities; and
combined exposures arising from multiple conditions of use, sources, and pathways.
The Biden EPA can and must act to restore this comprehensive and scientifically warranted approach to implementing TSCA and protecting health and the environment.
Up next in this series:  How TSCA can and must be used to better protect those at greater risk from chemical exposures.