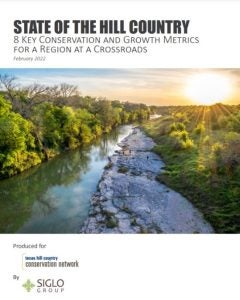 What makes the Texas Hill Country unique? In my mind, it comes down to one thing: groundwater. It is impossible to overstate the importance of groundwater to this region, because without it, the Hill Country would not be the region we know and love.
It is the beauty and abundance of the Hill Country's water resources that have attracted people here for thousands of years.
As the recently published State of the Hill Country Report reveals, the region is on the verge of becoming a victim of its own success as people are moving to the Hill Country in droves for its beauty and high quality of life. The report introduces eight key metrics to help track the region's health and guide decisions that will determine whether the region will continue to thrive or live beyond its means.
Unfortunately, current levels of groundwater pumping threaten to dry up rivers and springs as the Hill Country heads down the second path of living beyond its means.