Carlos Mandeville co-authored this post.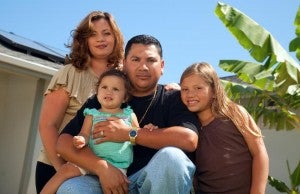 This year is set to be another record-breaker for solar power: the industry is on pace to nearly double in size by the end of 2016, and there are now more than one million solar installations in the U.S. that generated more new electricity in the first quarter of the year than coal, natural gas, and nuclear combined. This is good news, in part because 2016 is also on track to be the hottest year in recorded history – awash in scorching hot solar rays we can tap for clean, renewable energy.
Unfortunately, solar power is still inaccessible to vast, unreached markets and segments of the U.S. population. The National Renewable Energy Laboratory says only 22 to 27 percent of residential rooftops are capable of hosting a solar system because of structural challenges, tree shading, or "ownership issues" – mainly households who rent, and cannot install solar panels on roofs they don't own. Likewise, U.S. households who earn less than $40,000 per year (40 percent of the U.S. population) account for less than five percent of all solar installations.
But the solar game is changing. New models are emerging to complement and fill gaps in the market.
Community solar, defined as "a solar-electric system that provides power and/or financial benefit to, or is owned by, multiple community members," presents a unique opportunity to bring solar access to the masses. Even better, community solar in the U.S. is predicted to more than double between 2015 and 2016.
Here are 10 (unranked) reasons why we love community solar:
Access – Costs and homeownership can act as barriers to solar access, but community solar eliminates the need for the upfront purchase or financing of a rooftop system. Utilities or a third party (like a non-profit or co-op) cover the cost of building a larger, shared-system in a region, which local residents can subscribe to. Further, many programs allow customers to transfer their benefits if they move to a new apartment or home within the program's jurisdiction.
Customer Savings – Community solar can save customers money and help protect against rising energy prices as most programs allow you to "lock-in" a rate (ideally, a discounted rate for low-income customers). Enrolling in a community solar program, paired with energy efficiency upgrades, can help some customers keep a stable and affordable energy bill.
Partnerships – "Community" solar needs community buy-in, which requires meaningful engagement and partnerships. A successful program should reflect shared goals, values, and priorities. The best programs will include partnerships with local non-profits and community leaders, like we're seeing in Los Angeles, Colorado, and North Carolina, for example.
Climate Leadership – A strong community solar program can work in tandem with rooftop solar, utility-scale clean energy, electric vehicles, and battery storage to reduce harmful carbon pollution from our electric grid. In 2014, solar power helped avoid an estimated 20 million metric tons of harmful carbon dioxide emissions, the equivalent of taking four million cars off the road.
Environmental Justice – Community solar can help avoid, and eventually retire, dirty power plants, which spew harmful toxins and air pollution. This is critical because a disproportionate number of low-income people and people of color live within 30 miles of a coal-fired power plant, and nearly 40 percent of communities of color breathe unhealthy, polluted air.
[Tweet "10 Reasons Why We Love Community Solar"]
We've come a long way in harnessing the sun for clean, renewable energy; and we still have plenty of opportunity to innovate new programs and business models – like community solar – that will allow all communities to access its power.
Jorge Madrid is the Campaign Manager for Clean Energy Programs at the Environmental Defense Fund; Carlos Mandeville is an intern at EDF and a graduate of Vassar College.
Photo source: istockphoto/Daniel Bendjy