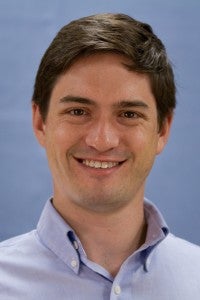 By: Adam Hart, 2011 Climate Corps Public Sector Fellow at Mecklenburg County, NC; MBA candidate at Kenan-Flagler Business School, University of North Carolina – Chapel Hill
Meet the stars of the "Crab, You're It!" project, a group of fiddler crabs helping North Carolina's Mecklenburg County employees reduce energy consumption in a lasting way. The creative folks behind this idea are Mecklenburg County's Land Use and Environmental Services Agency. They are using community-based social marketing in the form of the crab project to help employees become better environmental citizens.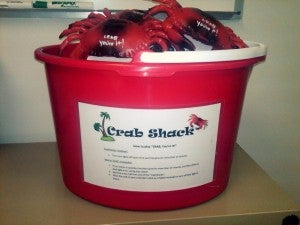 Community-based social marketing is a behavior modification strategy developed by Dr. Doug McKenzie-Mohr, a Professor of Psychology at St. Thomas University. The basic idea is that once you identify the barriers and benefits to a sustainable behavior, you can use behavior change tools to create a new social norm.
Mecklenburg County launched a pilot project, "Crab, You're It!," to encourage 350 county employees to turn off lights after leaving workspaces during business hours. The behavior change was driven by attaching a stigma to leaving the lights on. Employees were encouraged to spot colleagues who forgot to switch their lights off, and give them a big plastic fiddler crab. They could only pass on the fiddler crab when they found another employee wasting energy.
Each of the fiddler crabs had the following message written on it:
The Fiddler Crab is attracted to light. So, if one of your coworkers forgets to turn off their workspace lights when they leave for more than 15 minutes, "CRAB" them for wasting energy! If you return to find a crab on your desk then "you're it;" your goal is to get rid of the crab by finding another coworker who needs a reminder not to be crabby about turning off the lights.
The gaming aspect of the campaign made it catchier than just asking people to turn the lights out. That catchiness created accountability and a new social norm in the offices. Before the crabs were introduced, lights were turned off only 60% of the time in empty workspaces. After "Crab, You're It!" was introduced, over 90% of lights were switched off.
Community-based social marketing can have a lasting impact on individual behavior, and this project will lead to more energy saving campaigns for Mecklenburg County.
EDF Climate Corps Public Sector (CCPS) trains graduate students to identify energy efficiency savings in colleges, universities, local governments and houses of worship. The program focuses on partnerships with minority serving institutions and diverse communities. Apply as a CCPS fellow, read our blog posts and follow us on Twitter to get regular updates about this program.