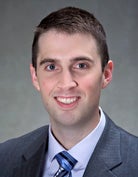 By: Matthew Peck, 2011 Climate Corps Public Sector Fellow at Winston-Salem State University, NC; MBA candidate at the Babcock Graduate School of Management, Wake Forest University; United States Navy Veteran
Just two weeks into my summer fellowship at Winston-Salem State University (WSSU), I learned one important lesson: energy efficiency is a long-term commitment. Before coming to WSSU's campus, I expected to see buildings far below modern energy efficiency standards. I thought I would identify many "low hanging fruits" and quickly turn WSSU into a greener campus. After arriving at WSSU, I realized my job wouldn't be that easy.
WSSU has a small and active sustainability team within the Facilities department. In the past few years, it has been pushing hard to increase energy efficiency and reduce environmental impacts of campus buildings. All of the buildings have either had lighting upgrades, or are scheduled to receive them. Other improvements that are under way include upgrades to HVAC systems and installation of water flow regulators in sinks and dormitory showers.
Due to the major strides in energy efficiency made at WSSU, I am pursuing options I had not previously considered to find even more savings and reduce greenhouse gas pollution. WSSU's planned upgrades are only the tip of the energy efficiency iceberg. My ideas go further to involve employees and educate students:
Educating dormitory residents on the proper use of a thermostat and encouraging appropriate temperature settings. This may sound simple, but the reality is that many young people who live in the dormitories are living away from home for the first time and have never had to set a thermostat.
Reminders to power down office equipment, turn off lights, and moderate environmental controls in unoccupied rooms.
Create competitions among the campus dormitories to see which can conserve the most energy and water, and reduce the most waste.
Compared to equipment upgrades, behavioral changes are gradual and perhaps more difficult to implement. Although the short-term financial savings may not be as great as installing digital HVAC controls, changes in behavior could ultimately have a bigger impact.
The bottom line here is that there are many ways to achieve energy efficiency and reduce carbon emissions. Whether it's changing the infrastructure of campus buildings or remembering to switch off lights, sustainability is a long-term commitment.
EDF Climate Corps Public Sector (CCPS) trains graduate students to identify energy efficiency savings in colleges, universities, local governments and houses of worship.  The program focuses partnerships with minority serving institutions and diverse communities.  Apply as a CCPS fellow, read our blog posts and follow us on Twitter to get regular updates about this program.