Opponents of the Clean Air Act have been yelling that this law's life-saving health protections are "job killers."
Just for a moment, let's ignore the fact that these regulations improve public health and safety and save our lives. It is untrue that these regulations kill jobs.
In fact, just two small parts of the Clean Air Act — EPA's Cross-state Air Pollution and Mercury and Air Toxics rules — would together create nearly 1.5 million jobs over the next five years driven by new investments.
EPA's new air pollution standards would limit sulfur dioxide, nitrogen oxide, mercury and other unhealthy pollutants that are in the air we breathe. Meeting the new standards, and lowering our air pollution levels, will result in investments in new pollution control equipment and power plants. It will also result in jobs for skilled professionals to do the work of installing and operating that equipment. That means jobs for electricians, plumbers, pipefitters, boilermakers, millwrights, iron workers and engineers – among others.
Among the economic beneficiaries would be the American companies that make pollution control equipment like scrubbers, dry sorbent injectors, and selective catalytic reducers. Take a look at this map: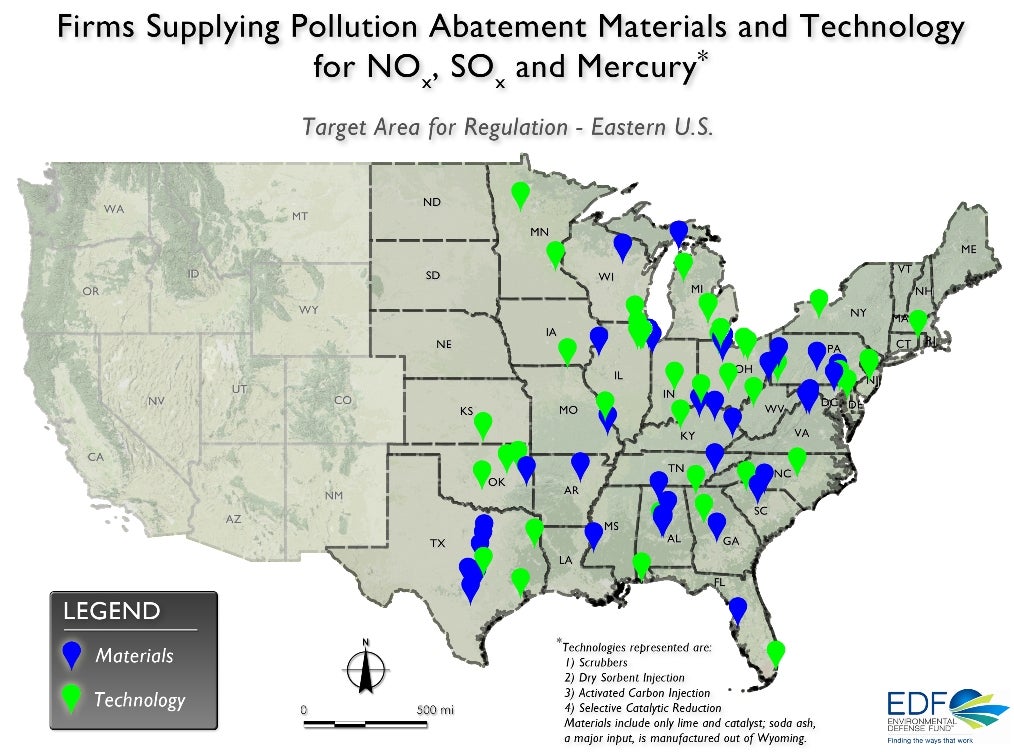 The map is  by no means comprehensive, but it shows some of the companies in the eastern half of the U.S. that are poised to benefit under EPA's rules.
A Case Study in Job Creation from Installing Pollution Control Equipment
Alstom Power's James Yann testified before the U.S. Senate's Subcommittee on Clean Air and Jobs in March of this year.
He described some of the jobs created from just one example of a pollution control technology – a wet flue gas desulfurization "scrubber" that is commonly used to remove sulfur and other air pollutants.
Dependent on the number of scrubbers ultimately installed, Alstom estimates that these clean air regulations will create a total of more than 150,000 jobs over the next five to six years of compliance work. That's just for direct jobs. In addition, tens of thousands of additional jobs would be created along the supply chain.
Here's more details to show how it works: 
Scrubbers consist of a large number of components including pumps, electrical equipment and wiring, controls, and emission monitors (among many others). Almost all of this equipment can be procured from sources in the United States.
Erecting a typical scrubber requires more than 2,000 tons of fabricated steel delivered to the site. This steel represents more than 40,000 man-hours of production.
Assembly of the scrubber requires the most man power and a wide variety of trade crafts, typically lasting up to 30 months and employing an average of 700 craft people during that period.
In total, a typical wet flue gas desulfurization project will provide the equivalent of about 775 full time jobs over the life of the installation project, not including jobs provided for all the equipment suppliers and delivery services involved in delivering materials and equipment to the site.
Scrubber systems require ongoing supplies to operate including ammonia, lime, limestone and activated carbon. Companies making these supplies will need to create additional jobs to meet the increased demand as a result of EPA's clean air rules.