Richard Denison, Ph.D., is a Senior Scientist.
I had reported in an earlier post – based on data provided to EPA by Nalco, the maker of Corexit® 9500, the main dispersant being used in the Gulf – that the dispersant appeared to increase the acute aquatic toxicity of oil.
At a press conference today, EPA released data from the second round of its own testing on Corexit 9500 (and seven other dispersants), and concluded that the acute toxicity of the dispersant-oil mixture is about the same as the oil by itself.
What explains the discrepancy?  To put it most simply:   It's not that the dispersant-oil mixture was less toxic in the EPA tests, it's that the oil EPA used – which is the actual oil that has been leaking into the Gulf – was more toxic than the fuel oil Nalco had used.  Here's a cartoon illustrating what I'm saying (the arrow shows the biggest change):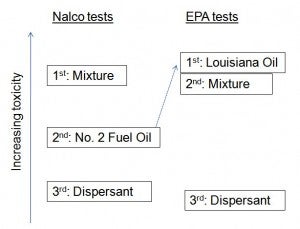 So the good news is that the dispersant doesn't appear to be increasing the acute aquatic toxicity of the oil released into the Gulf.  The bad news is that the oil is pretty toxic, and the dispersant certainly doesn't help directly with that.  And of course, the bigger questions about longer-term effects of dispersants and dispersed oil are not addressed by the new data.   Read More »