Richard Denison, Ph.D., is a Lead Senior Scientist.
There is a swirl of activity underway around implementation of the Lautenberg Act, last year's overhaul of the Toxic Substances Control Act (TSCA), and we've been
blogging quite a bit about those developments.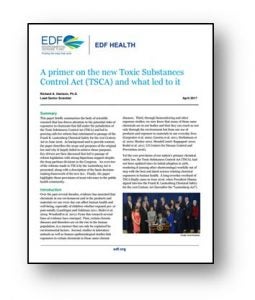 I've taken a step back here from implementation, however, and developed a new "primer" that discusses what led to the new law and describes in some detail the key reforms Lautenberg made to the original TSCA and how the law works.
The primer is intended to serve as an introduction and guide to the new law for those that haven't been steeped in the details and provides our perspective on the key provisions.  It also discusses those aspects of the new law that may be of particular interest and relevance to the public health community.
For the latest on the state of play on implementation, please keep an eye on our blog.